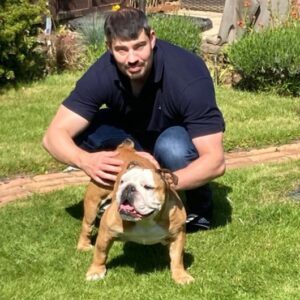 Sarge is home!
We are over the moon to announce that Sarge has gone home!
Sarge was collected on the weekend by his excited new pawrents Sophie and Rob.
He is settling nicely and has been very relaxed in his new home, enjoying walks and the sunny weather in the garden.
Sarge has taken no time at all wrapping his new Mum and Dad around his tiny paws and getting comfortable in his new home.
So please join us in congratulating Sophie and Rob on their gorgeous boy.
To Sarge enjoy your new life to the full and we look forward to seeing all your new adventures with your family. We wish you all a lifetime of happiness and heart-felt joy together.
Thank you so much to Emma and Dan and family for fostering Sarge and taking great care of him. We are so grateful as always for all your hard work.
A little of Sarge's story below,
Please say hello and welcome to Sarge
Sarge came to GBSR a 4.5-year-old entire male.
We were contacted by his owner looking for help with him, due to vet bills and medication he unfortunately could no longer financially afford to keep him. Wanting to ensure he was safe he asked us to take him in and find him a forever home when he is back to full health.
This was just the beginning of Sarge's journey with GBSR, Sarge's eyes were in much worse condition than we could have imagined.
Sarge had already had cherry surgery on his left eye and unfortunately developed dry eye that hadn't been treated properly leading to infections and ulcers.
We started Sarge's treatment straight away antibiotic eye drops, pain management and lubricant, and had a serum made using his own blood hoping to reverse the damage and prevent any further issues.
But unfortunately, nothing we tried has worked, we tried every treatment possible determined to save his eyes.
We have had many sleepless nights as the thought of Sarge losing his eyes, and making sure that whatever decision we made is in his best interest.
Sarge has now undergone Parotid Duct Transposition in both eyes. This is a complex surgery, where two saliva glands are removed from his tongue and transplanted into the pocket where his tear ducts were. Saliva is then produced to keep the eyes moist.
Hopefully Sarge heals well, and we can start to find him his forever family.
Sarge is now in foster with Emma in the North East and he has settled well.
More about Sarge,
Sarge is a sweet and excitable little boy.
He is eager to please and desperate to be your best friend.
Sarge absolutely loves a cuddle, and his favourite is a good bum scratch.
He isn't playful in the sense of bringing toys to you but loves to chew a toy and drag it about.
He isn't a rough and tumble dog with humans but loves a good game of bitey face with the resident bulldog.
Sarge has enjoyed the company of the resident bulldog but also likes his own space.
He loves a walk and enjoys the attention from anyone he meets.
Sarge has been through a lot and is proof of how resilient this breed is. And in typical bulldog fashion you give him a yard he will take 10miles.
Sarge loves a good snooze and will happily take himself off to his bed.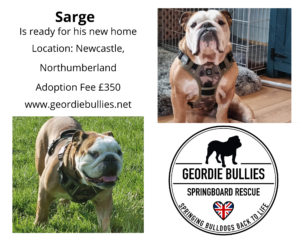 Dogs name:
Sarge.
Age:
5years
Can live with children:
Older, dog savvy children.
Can live with dogs:
Yes, laid back and calm dogs.
Can live with cats:
Untested.
Current location:
Newcastle Upon Tyne, Northumberland.
Things to be aware of:
Sarge has undergone bilateral Parotid Duct Transposition, to save his eyes.
This means that his eyes are kept moist by saliva in place of tears.
Sarge will need his eyes to be cared for daily keeping them clean and prevent any infection, using a simple eye cleaner/drops daily.
He will also need his nose rope and folds cleaned regularly.
Sarge has seasonal allergies very common with the breed and has some food sensitivities so must stay on his current diet with very little human food.
We will guide and support his future family in how best to care for his needs.
Sarge is startled if approached from the right by surprise and unexpected loud noises. Any young children in the home MUST be supervised.
Sarge is toy possessive so any other dog in the home will need to be easy going.
Sarge is a typically mouthy bulldog but with continued training this will calm and does bark in excitement.
Sarge will need time and patience as he learns his new environment.
The ideal home:
Sarge needs a Bulldog experienced home with a calm home environment, and someone to keep him company.
He can suit most home environments be company for a single person or A family with older children who can understand Sarge's needs, and who he can enjoy long walks and snuggles with.
Sarge needs a confident and firm owner that understands his behaviours and is prepared to put in the training, and confident in bulldog husbandry. He can be left crated for up to 4 hours.
Other comments:
Sarge really is a one-of-a-kind bulldog, he has been through so much and proves just how resilient this breed truly is. He deserves a home and a family who can put the time and work into helping him settle and training him.
Follow Sarge https://www.facebook.com/geordiebullies/
{"slide_to_show":"3","slide_to_scroll":"1","autoplay":"true","autoplay_speed":"3000","speed":"800","arrows":"true","dots":"false","loop":"true","centermode":"false"}