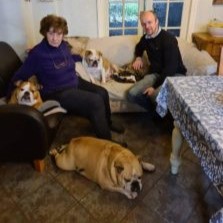 Lola is home!
We are very pleased to announce that Lola has gone home, she was collected by her new family and it was clear she has found her happily ever after.
She has joined John & his family and she now has herself some wonderful new fur siblings. We were excited when John applied for Lola as he is already apart of the GBSR family after adopting Rosie.
Lola has settled really well and it seems being in her own pack really helps with her anxiety and has given her confidence and safety. Like she was always apart of the family pack. Her perfect fit.
Lola has wasted ZERO time settling in and we are sure she has many adventures to come, have a great life with your new family sweetheart!
And huge congratulations to Jonathan, who has added Lola to his pack of Ozzie, Rosco and GBSR girl Rosie.  We are sure you will love her as much as we do!
A little of Lola's story,
Lola had terrible anxiety when she came into our care, and was extremely difficult to walk as she would drag you. Our amazing foster families worked really hard in supporting Lola with her anxiety and training, putting in place routines that her new family can easily continue with. To ensure she had the best chance at her happily ever after. 
We want to send a huge thank you to Lola's first foster mum, Alison Gonzalez for taking Lola and for starting her on her GBSR journey. And to Jazz Gee who saw Lola's journey through to her adoption.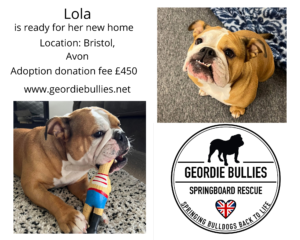 Dogs name: Lola
Age:  2 Years 1 month
Can live with children: Yes aged 12 years and above
Can live with dogs: Yes
Can live with cats:  Untested
Current location:  Bristol, Avon
Lola is very puppy like and very very playful with her toys and with Bear (English Bulldog) in her foster home. In fact, she loves life and loves her humans and will snuggle in for a cuddle.
Walking is a big part of Lola's life, she absolutely loves getting out to meet and play with her canine buddies. She is so keen to get going, she is a puller on the lead and she needs a firm grip. She is fabulous off her lead and her recall is great, but the pulling will need to be addressed.
Things to be aware of: 
Lola suffers from separation anxiety so she will need to have a solid routine in her new home where she is not left for long periods. Any prospective new family need to be prepared for a little bit of regression. She is currently on CBD oil which we recommend she continues with.
The ideal home: 
Lola needs a home where someone will give her time to adjust and take time to understand her needs. She has no malice at all in her, she is very gentle but being left causes her anxiety so her new home must be able to have room for a crate for her for the separation training.
As she is such a playful girl and so great with dogs, we would love her to be rehomed with an equally playful dog for company and have lots of room for mad playtime.
Other comments: 
Lola is a sweetheart of a dog that has two areas that need to be addressed, that's her anxiety and her pulling when she walks, otherwise she is perfect in every other way.
She needs an active but calm home because she is very puppyish and will become very fizzy if she is over stimulated, so any children in the home or visiting will need to be old enough to understand and visiting children supervised.
Lola needs an exceptional owner who wants a beautiful companion to share adventures with.
Follow Lola https://www.facebook.com/geordiebullies/
{"slide_to_show":"3","slide_to_scroll":"1","autoplay":"true","autoplay_speed":"3000","speed":"800","arrows":"true","dots":"false","loop":"true","centermode":"false"}