Frank is a lovely boy who is playful and happy in his foster home. He is great with the children and dogs in the home and is described as an easy boy to have around.
He enjoys cuddles and attention and plenty of short walks where he can meet other dog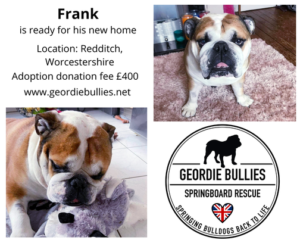 Dogs name:  Frank
Age:  4 Year, 4 Months
Can live with children:  Yes
Can live with dogs: Yes
Can live with cats:  Untested
Current location:  Redditch Worcestershire
Things to be aware of: 
Frank has had his tail removed after suffering recurrent infections and this is healing well
He has Dry Eye which means he must have lubricating eye drops every day. He is currently on Lubrithal but there are others that we can advise Franks family on
Frank has arthritis and as such he may need pain meds in the future which we would estimate to be around  £50 every three months for Metacam.
The ideal home: 
Frank is such an easy-going boy he will fit into any loving home where he will be part of the family, get plenty of attention and not be left for long periods.
He cant walk long distances but he loves lots of little walks so this will be encouraged in his new home. He is fine with children so we have no restriction on age but obviously, no young child should ever be left unsupervised with a dog.
Other comments: 
Frank is such a sweetheart, everyone loves him. He has recovered well from his tail amputation and is living happily in foster with other dogs and children so we feel he will make a lovely family pet.
Frank isn't a lover of long car journeys so we will consider a new home up to 2 hours from his current location.
Franks adoption donation fee is £400 and will need to be paid in full prior to him going home which will also be subject to a home check.? PLEASE READ CAREFULLY BEFORE APPLYING ?

1. Have you read the adoption criteria in full?  You must meet ALL dog's criteria.
2. COMPLETE APPLICATION form and pay your £5 subscription
3. PAYMENT REFERENCE must on the application form to cross reference.
4. PAYMENT METHOD : pay via PayPal www.paypal.me/gbspringboard or
Bank transfer Sort : 09.01.28 Acc : 92014344.

? UNLESS WE SEE PROOF YOU HAVE PAID; WE CANNOT PROCESS YOUR APPLICATION ?.

£5 per year allows you to apply for as many dogs as you wish should you not be suitable on your first Application.
To apply, please complete the application form below

https://www.cognitoforms.com/GeordieBulliesSpringboard1/adoptionapplication