George & Lacey – Now Adopted!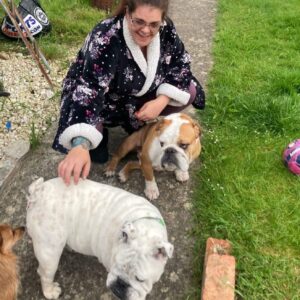 Look who has gone home, Lacey and her son George!
Their new mum, Sam, travelled to collect these laid-back beauties and take them to their new home in the Southwest.
They wasted no time investigating their new 'Bully Nursery' and true to their relaxed nature, it wasn't long before they were trying out their new beds, a getting their new training regime in place. After all how else will Sam learn how to spoil them if they don't teach her!!
They now have a new canine buddy called Teddy and new skin family siblings called Charlie & Rebekah and they are all settled into a new life together beautifully.
So please join us congratulating Sam, we wish you all the bulldog loves in the world, good luck with George & Lacey, they are adorable.
To George and Lacey, be the wonderful bulldogs you are and treasure your furever family. We all look forward to all your adventures ahead in this new chapter of your lives.
We want to thank Samantha Mercer for being a fab 1st time foster mum, you have been amazing and we really appreciate your help with these babies.
George is a very loving and chilled out boy who absolutely adores all human contact and will lean into you if you are sitting, just to make contact and get some strokes and attention. He loves to be involved in whatever is going on, just so he can be around people. He isn't overly playful but will play with a football on occasion.
George is a relaxed walker outside and will have a sniff with other dogs and he is learning a few commands.
Lacey is also a chilled-out girl who loves to mooch about at her own pace around the house. She loves all human contact, and she will lean into you to get close and have cuddles. She isn't playful, she just enjoys being in a calm relaxed house. She can be stubborn and will clearly hear you call her name but will often chose to pretend she hasn't..!
She is also relaxed with other dogs both in and out of the home.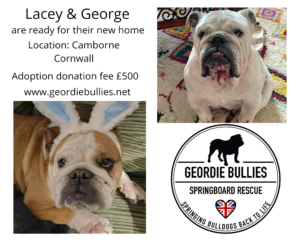 Dogs name: George & Lacey
Age:  George 7 years 2 months, Lacey 9 years 2 months (mother & son)
Can live with children:  Yes aged 8 years and above
Can live with dogs: Yes, a laid-back dog
Can live with cats:  Untested
Current location:  Camborne, Cornwall
Things to be aware of: 
George has been suffering from food allergies for some time and this is now being managed with a Hypoallergenic diet which he must remain on. His skin is getting better with Malaseb Baths and rubbing coconut oil into the areas on his body so this regime will need to be continued until his skin starts to recover.
Lacey has the same issue with her skin as George but much worse, so has the same regime and food. She came in with a massive ovarian tumour which has been successfully removed and she has cataracts which she has drops twice a day for.
Lacey does not like being pulled by her collar, and she will turn her head as it to snap if you try and move her by her collar. She will also try her luck if you try and get her off the sofa so her new family need to understand that sofa surfing is out bounds for this girl.
The ideal home: 
Lacey and George must stay together so whilst George could cope with a busy home, Lacey would be much more suited to a calm home so this is what we are looking for. Any children in the home would need to understand not grab Lacey's collar as she can react.
Ideally, they will be homed where they have a lovely garden to lay in and be taken on walks with someone around for a good part of the day.
They are fine with dogs in and out of the home but George came to us underweight and will try and get another dogs food (not Laceys) so he would need to be fed separately if there is a resident dog..
Other comments: 
If a dog could smile, then that would be George. He is an adorable boy who has a very happy demeanour, and he will make a fabulous companion into a home where he will be loved and adored. Lacey is also very loving and together they are great. They share a bed and Lacey will tell her boy off if he hogs too much of it, but they are a happy chilled out pair that will continue to flourish in a loving home.
Lacey has had a few accidents overnight when she first came into foster, and she might regress for a short while in her new home and she settles better at night if a small lamp is left on.
Both Lacey and George travel well and we will consider a special home for them, up to 4 hours from their current location in Cornwall.
{"slide_to_show":"3","slide_to_scroll":"1","autoplay":"true","autoplay_speed":"3000","speed":"800","arrows":"true","dots":"false","loop":"true","centermode":"false"}