Hank is described as his foster family as a big old fusspot who adores human contact. He resembles a lost sheep sometimes and just loves to follow his human everywhere.
Hank really enjoys his walks and wears a harness and lead when adventures call! He can pull a little sometimes but once corrected he calms down.
Hank is not bothered by other dogs and noise on his walks. He can be walked with other dogs or without. Hank doesn't like to relieve himself on walks and prefers the garden to perform his bodily functions!
Hank hasn't been off lead while in foster but he does respond generally when his name is called. His new family will need awareness of this going forward.
Hank can follow simple commands such as down, wait and sit (if dinner is on offer!). He does sometimes think commands are a game and he is still very young so continued training will be required.
Hank absolutely loves toys!! He likes to carry them around but these can be removed by both humans and dogs with ease. Hank loves a game of chase but isn't so keen on bitey face.
Hank has no issues being pampered and having his cleaning routine performed.
Hank is a really tactile young man and likes to be near at all times. He loves kisses and cuddles and this will be a must in his new forever home!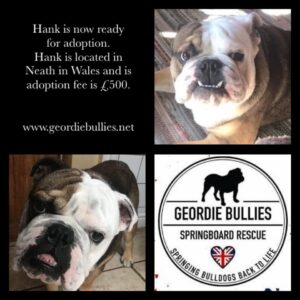 Dogs name: Hank
Age: 9 months old.
Can live with children: Yes, dog savvy.
Can live with dogs: Yes
Can live with cats: Untested with cats
Current location: Neath in Wales
Things to be aware of:
Hank is still a very young boy and needs a home with the time to continue his training and give boundaries.
Hank will be rehomed entire to give him time to fully mature and will be neutered at a date stipulated by the charity. Hank will therefore be unable to be rehomed with any unspayed female or unneutered male dogs. Hank must never be used for breeding and because of this we will monitor him closely until he is neutered.
Hank isn't a massive fan of rough play and isn't sure about playing bitey face yet but he does love a good game of chase!!!
Hank has been socialised in a pack of dogs in foster and has been very good apart from being a big fan of humping! He is learning boundaries in regards to this but will need continued awareness and training.
Hank initially scent marked his foster home but this soon calmed down.

The ideal home:

Hank is a young boy who is full of teenage hormones!!! He will need a family who show awareness of this and are willing to continue with training and give him firm boundaries, if you give him an inch he'll take a mile!!!!
Hank has lived happily with several dogs in foster and has not been reactive so can live with a furry friend in his new home.
Hank hasn't really had a lot of contact with children in foster but we have no reason to think he can't live with them. He adores human contact and we feel that dog savvy children would be most appropriate going forward to ensure they can manage his behaviour and help with training.
Hank would be most suited to a family who has someone home a lot as he craves human attention.
Other comments:
Hank has been a pleasure in foster. Hank has used a crate in foster and settles well overnight and if he's left for short periods at home.
As Hank is being rehomed unneutered, we will arrange for his operation and pay for this. It will be a condition of the adoption contract that this is completed by the new owner at a vet of our choice.
Hank is toilet trained but can scent mark initially, hormones!! He travels well and we will consider a new home for him up to 4 hours from his current location in Neath in Wales.
If you have any questions, please ask Tracy Barrett foster mum to Hank.
Hank's adoption fee is £500 and will need to be paid in full prior to going home which will also be subject to a home check.
 PLEASE READ CAREFULLY BEFORE APPLYING 
1. Have you read the adoption criteria in full? You must meet ALL dog's criteria.
2. COMPLETE APPLICATION form and pay your £5 subscription
3. PAYMENT REFERENCE must on the application form to cross reference.
4. PAYMENT METHOD : pay via PayPal 
www.paypal.me/gbspringboard
 or
Bank transfer Sort : 09.01.28 Acc : 92014344.
 UNLESS WE SEE PROOF YOU HAVE PAID; WE CANNOT PROCESS YOUR APPLICATION 
.
£5 per year allows you to apply for as many dogs as you wish should you not be suitable on your first Application.
To apply, please complete the application form below
https://www.cognitoforms.com/GeordieB…/adoptionapplication
{"slide_to_show":"3","slide_to_scroll":"1","autoplay":"true","autoplay_speed":"3000","speed":"800","arrows":"true","dots":"false","loop":"true","centermode":"false"}