Lola & Bane – Now Adopted
Lola and Bane's foster family describe them as a bonded pair who much resemble an old married couple, they may have the odd squabble but they make it up with a ear clean to say sorry!

Lola and bane really love walking and will require and active family. Both wear harnesses to walk.

Lola is good both on and off the lead but Bane can pull on the lead but responds to correction. Bane is reactive to dogs while walking and can lunge at them so control is key. We would advise lead walking to ensure safety and further training going forward.

Lola has good recall but can be stubborn, typical bully! Bane is susceptible to distraction and needs further training for his recall.

Both Lola and Bane can follow basic commands such as sit and leave. They are very treat orientated and are quick to please if a tasty treat is involved.

Lola and Bane love playing with toys but typically what one has the other one wants! This can sometimes cause squabbles so awareness needs to be shown. They are known as the toy destroyers in their foster home as no toy lasts very long!!!

Neither dog particularly enjoys their cleaning regime and Lola is known to hide!!!

Lola needs her nose rope and ears cleaning daily.

Lola and Bane love attention but one can be known to barge the other out the way to ensure they get their fair share of the love!!!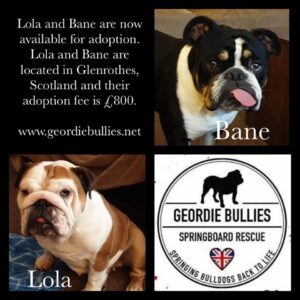 Dogs name: Lola and Bane

Age: Lola is 5 and Bane is 2 but will turn 3 30/11/20 (same adoption fee bracket).

Spayed/ Neutered: Yes

Can live with children: Yes

Age of children : 12 plus

Can live with dogs: No

Can live with cats: No

Current location: Glenrothes, Scotland

How far can the dog travel from current location: 4 hours


Things to be aware of:

Lola and Bane thrive on routine, training and boundaries. They will make a fabulous addition to a family who would like a ready made bully family!!
Lola and Bane love rough play but Bane does have a tendency to become over excited and this means he struggles to control himself, this needs awareness and a knowledge of when enough is enough.
Both dogs dislike vacuum cleaner and vacate the room when it comes out to play.

Though Lola and Bane love toys and to destroy each and everyone of them, Lola can become obsessive with certain toys such as new tennis balls. In this situation care must be taken as Lola becomes overwrought so best to remove.

Lola has hip dysplasia but it doesn't hinder her at all and her breathing can become heavy if too hot and overexcited but no treatment is required

The ideal home:

This lovely bonded pair need a forever home which is active and understands the importance of ongoing training and boundaries.

They will require a home with no other dogs as Bane can display dominance inside the home and we feel it's safer for them to be the only dogs in the home.

Bane can get over excited so with this in mind we are rehoming him with dog savvy children over 12, so they will have a better understanding of how to keep him calm when he's getting over excited and playful.

Other comments:

Lola and Bane are a bonded pair who need a furever home who are committed to ongoing training and instilling boundaries. They sleep in the kitchen (though they'd prefer to be on the sofa!) and do not use crates in foster.

Lola and Bane are mostly toilet trained, they can have the odd accident and will need time to settle and readjust when they move to their forever home. Lola and Bane travel well, we will consider a new home for them up to 4 hours from their current location in Glenrothes, Scotland.

If you have any questions, please ask Alison Gracey foster mum to Lola and Bane.

Lola and Banes adoption fee is £800 and will need to be paid in full prior to going home which will also be subject to a home check.

PLEASE READ CAREFULLY BEFORE APPLYING


1. Have you read the adoption criteria in full? You must meet ALL dog's criteria.
2. COMPLETE APPLICATION form and pay your £5 subscription
3. PAYMENT REFERENCE must on the application form to cross reference.
4. PAYMENT METHOD : pay via PayPal www.paypal.me/gbspringboard or
Bank transfer Sort : 09.01.28 Acc : 92014344.


UNLESS WE SEE PROOF YOU HAVE PAID; WE CANNOT PROCESS YOUR APPLICATION
.

£5 per year allows you to apply for as many dogs as you wish should you not be suitable on your first Application.
To apply, please complete the application form below

https://www.cognitoforms.com/GeordieB…/adoptionapplication
{"slide_to_show":"3","slide_to_scroll":"1","autoplay":"true","autoplay_speed":"3000","speed":"800","arrows":"true","dots":"false","loop":"true","centermode":"false"}