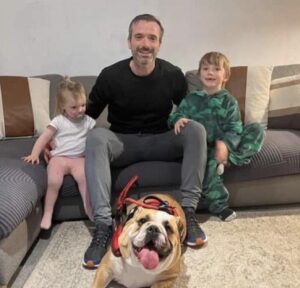 We are delighted to be telling you that our little Puddin Harley is now home!
Harley was collected yesterday by her new mum Claire, and it was clearly love at first sight.
Claire took her home to her new dad Steve and their two beautiful children who were so happy to meet their new fur sister.
Harley had a very settled night and has enjoyed early morning cuddles with Claire, she has fitted straight in and is loving having her very own children to play with.
Harley also has a brand-new name; Heidi and we think it's suits her well.
We would like to say a heartfelt thank you to Carole for preparing Harley (Heidi) for her forever home. You have done a fantastic job, and we are truly grateful for all the hard work and dedication you put in.
So please join us in congratulating Claire, Steve, Hugo and Holly on their beautiful new girl Harley (Heidi)
We wish you all the happiness together and we look forward to seeing all your new adventures together!
To Heidi you be a good girl and cherish your family as much as they already cherish you!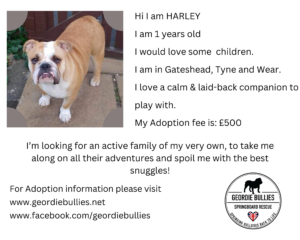 Dogs name:
Harley
Age:
1 years old
Current location: Gateshead, Tyne and Wear
I CAN LIVE WITH
Children: Yes, dog savvy children
Cats: No.
Dogs: Yes, spayed or neutered laid-back calm dogs.
A BIT ABOUT ME
Personality:
Harley may present as timid and shy but soon feels comfortable enough to show you who she really is.
Harley is a typical young Bulldog. She's full of sass and cheek and has the funniest temperament.
Harley is playful and so affectionate with her humans and she's partial to a snuggle up in front of a movie her favourite being Jungle Book.
Behaviour:
Harley is a young girl and will need continued training to improve some of her manners.
Harley is playful, excitable and bouncy, but she holds no malice at all.
She is loving towards her humans and will seek you out for attention and affection.
Harley does enjoy a game of tug and the odd occasion a little rough play.
Needs:
Harley is best suited to an active family, one that will keep her involved with daily family life.
Harley needs a family who can play with her and take her on adventures.
To grow old with and create the best of memories.
She will benefit from a calm dog in the home to keep her company whilst her family are away.
Any dogs in the home must be neutered, as Harley is too young to be spayed.
Walk/exercise:
Harley loves her walks; she can pull to start off but finds her rhythm.
Other dogs and people don't bother her whilst out. Much preferring to explore her surroundings as she's a very curious little girl.
Toilet trained:
Yes, Harley is a very good girl.
Can be left:
Harley can be left up to 4 hours, a comfy bed, and some toys to keep her occupied.
Travel:
Harley travels well, we advise a crate of seatbelt harness. We will accept applications up to 4 hours away from her current location.
Things to be aware of:
Harley doesn't like fireworks and will need gentle reassurance over the coming weeks.
Harley is too young to be spayed, and as such she will be going home on a "to be spayed" contract which will be undertaken when she is 18months old at a vet of our choice with costs covered by the charity.
Any children in the home must be supervised, as Harley is a big girl and has the potential to jump and knock smaller children over.
Children must understand that bulldogs need time to settle in and have space to rest peacefully and uninterrupted.
Any dog in the home must not have any resource guarding behaviours.
Additional information:
Harley truly is a one-of-a-kind dog; she is so sweet natured with just that hint of naughty thrown in that will keep you laughing for many years to come. If you are looking to find your best friend, then Harley is your girl!!
A little of Harley's story below,
Please welcome the beautiful Miss Harley to our GBSR family
Harley is an 11-month-old entire female.
She comes to us after her owner has sadly fallen extremely poorly and is now spending a lot of time in and out of hospital meaning Harley wasn't getting the care and attention she needed.
Her owner had another family member help, but unfortunately it didn't work out.
Miss Harley is in foster with the lovely Carole in the North East and is already up to all sorts of mischief, and keeping FM on her toes.
Thank you, Carole, for collecting Harley so quickly and getting her settled.
Welcome Harley to our Springboard Family, and we look forward to seeing you flourish.
For more updates on all our dogs please join our community group
https://www.facebook.com/groups/1793138384086708/
{"slide_to_show":"3","slide_to_scroll":"1","autoplay":"true","autoplay_speed":"3000","speed":"800","arrows":"true","dots":"false","loop":"true","centermode":"false"}