Skyler is home!
We are very pleased to announce that Skyler has gone home!
She is now being adored by her new slaves Roger & Christine who have fallen in love with her charms already.
Skyler will never know suffering again. She is now the centre of her families world and is already cherished and adored
So please join us in congratulating Roger & Christine…  We are looking forward to seeing all your new adventures with the gorgeous Skyler.
Huge thank you to Tara Chattaway who has done a fabulous job caring and nurturing Skyler back up and preparing her for her new home. We are very grateful as always.
A little of Skyer's story below,
Skyler was just 2.5 years old and had her 2nd litter 8 weeks before coming into our care.
She was being rehomed as her owner is moving and no dogs are allowed.
Skyler was very underweight, in poor condition and has skin issues and cysts on her feet.
We started her on a raw diet to try get weight on her, she was feeling so hungry, so she was having 4 meals a day to build her up.
She was spayed whilst in foster your breeding days are over sweetheart.
It isn't often a dog comes to us in this state, to say we were shocked is an understatement.
We appreciate our amazing fosters for everything they did to ensure Skyler was fit and well.
Skyler is a lovey girl with a bit of sassiness. She is very loving and understands commands quite well.
She adores all human contact and loves playing with her toys.
Skyler is very good with the children in her foster home, and she is happy walking out, although she might take offence if a dog comes too close.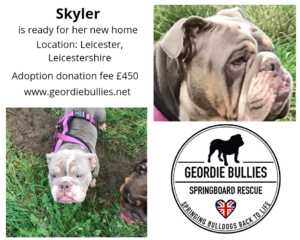 Dogs name: Skyler
Age:  2 years 5 months  
Can live with children:  Yes
Can live with dogs: No
Can live with cats:  Untested
Current location:  Leicester, Leicestershire
Things to be aware of: 
Skyler is being rehomed un-spayed so as soon as she is 3 months post Season, we will make arrangements to have her spayed with a vet of our choice and the cost of which will be covered by the charity.
Sometimes Skyler still has accidents overnight and like many Bulldogs, Skyler hates the Hoover.
The ideal home: 
Skyler will make a lovely and very loving family pet where she is taken on regular walks, has lots of toys and can be involved in family life. As mentioned, she is great around children but obviously any young children would need to be supervised as she does jump up on occasion.
Other comments: 
Skyler came into the charity emaciated and her foster family have gradually built her back up to good health. She still carries some scars from her previous life so her new family will need to be understanding but also, still able to give her boundaries
She is living in a home with other dogs at present and is generally ok with them, especially with Wonkie. But she can be temperamental with other dogs, so we have decided its fairer for her, if she is rehomed as an 'only dog'
{"slide_to_show":"3","slide_to_scroll":"1","autoplay":"true","autoplay_speed":"3000","speed":"800","arrows":"true","dots":"false","loop":"true","centermode":"false"}