Hector & Reggie – Applications now closed – North East
Hector & Reggie are young fun loving typical English bulldogs. They love to be with you and will actively seek you out for affection. They definitely have that 'butter that wouldn't melt faces', we all know and love. They are both cheeky young boys with bundles of charisma.
Both boys love a good toy, and can guard on occasion. And they do like rough play but can get carried away. The boys will happily sit to be brushed, any activity that means them being loved and given attention and they are happy lads. Both boys walk well on leads and will greet other dogs with excitement.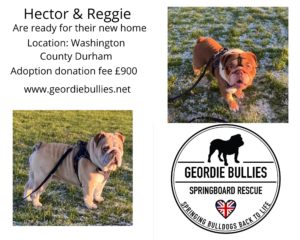 Dogs names: Hector & Reggie
Age: 22 months – brothers
Can live with children: yes
Can live with dogs: yes calm Neutered/Spayed
Can live with cats: untested
Current location: Washington, County Durham
Things to be aware of:
Grooming is a process, especially the pocket. Hector is getting much better, ears, eyes, folds, teeth and gums give plenty of treats when doing this and talking to them gives lots of reassurance. Hector will shy away from loud noises in the home and is frightened of the hoover. Reggie however is much more confident and stubborn.
Both boys are still young and training is progressing, this will need to continue in his new home. With the boys being so young any young children will need to be supervised around them as the boys don't often
remember their size and may knock a small child over.
The ideal home:
A family home environment with dog savvy children, to give them lots of affection and attention. Preferably with a family that has bulldog experience, and rescue experience/knowledge. That has the time to continue bringing these young boys to be gentlemen.
Other comments:
The boys have stolen the hearts of us all, especially his foster mum. They have an incredible bond  together, and such individual personalities. They will make the most amazing additions to a family, who are willing to put the time in to guide and train these young boys to reach their full potential.
Their adoption donation fee is £900 and will need to be paid in full prior to them going home which will also be subject to a home check.
**The successful applicant will need to have an active Facebook and Messenger account for the life of the dog. If you cannot agree to this, please don't apply**
🚨 PLEASE READ CAREFULLY BEFORE APPLYING 🚨
1. You MUST MEET ALL the dogs' criteria, have you read the adoption criteria in full?
2. COMPLETE APPLICATION FORM
3. PAY YOUR £5 SUBSCRIPTION – SEE NOTE BELOW*
4. PAYMENT REFERENCE must on the application form to cross reference. Mention if you have paid
by Paypal or Bank Transfer if you are unable to provide a Transaction Number so we can check.
5. PAYMENT METHOD Via Enthuse using the link below.
https://geordiebullies.enthuse.com/donate#!/
Note:
UNLESS WE SEE PROOF YOU HAVE PAID; WE WILL NOT PROCESS YOUR APPLICATION
AND YOU WILL NOT BE CONTACTED.
£5 per year allows you to apply for as many dogs as you wish over a 12 month period from your first
application. Please mention if you have paid by Paypal or Bank Transfer on any previous applications
so we can cross reference.
Below is the link to the Application Form.
{"slide_to_show":"3","slide_to_scroll":"1","autoplay":"true","autoplay_speed":"3000","speed":"800","arrows":"true","dots":"false","loop":"true","centermode":"false"}