Kev is described by his foster family as an amazing furry friend who, in the right home, will continue to flourish. He is playful and goofy and adores humans of all varieties. He is fabulous with children and loves nothing more than a good snuggle off them.. unless they have food, then he will nick it!!!!

Kev wears a ruffwear harness and has a training lead attached front and back when walking. He gets really excited when he sees his harness and lead and he does walk well. Kev is reactive to other dogs while out and will bark, pull and growl. His harness and lead provide control but this requires continued training and awareness going forward.

Due to his issues around other dogs Kev has not been off lead so we are unaware what his recall would be like.

Kev is a very clever boy and can sit, wait, paw, down and he really knows the word NO!!! He is still learning how to leave as he seems to turn a deaf ear!!!

Kev is great around children but can be a naughty puppy and removes food and pinches toys! He will drop the toy when told no.

Kev loves toys! His favourites are chew toys. He generally plays nicely but does have some possessiveness over buffalo horns.

Kev enjoys a bout of rough play but like any young dog it doesn't take long for him to become overexcited! His foster family find it best to try and be relatively calm so he doesn't get carried away!

Kev doesn't mind his cleaning routine at all and will happily comply after trying to make a game of it!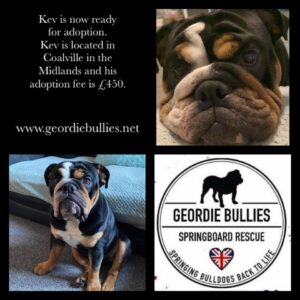 Dogs name: Kev

Age: 1 year old

Can live with children: Yes

Can live with dogs: No

Can live with cats or any small furries: No

Current location: Coalville, Midlands.


Things to be aware of:

Kev is still a very young dog and needs a family that can commit time to training.

Kev initially came into the rescue with an issue with his back as a pup. He was very wobbly on his back legs but he had Hydrotherapy and didn't require surgery. Kev doesn't seem to have any issues with this currently but he can be a little stiff at times but soon loosens up and enjoys a little back massage in the morning.

Kev cannot be homed with any small animals such as cats and rabbits as he shows aggression towards them.

Kev loves chew toys and sees toys like buffalo horns as a high value treat. This can mean Kev can growl and try to snatch if the toy is removed so care must be taken. His foster mum restricts these toys to just when he's left in the kitchen while they are out.

While walking Kev can be scared by lorries and large vehicles. He also doesn't like people in masks and hates tin foil!!!

Kev is reactive to dogs while out and can be dominant to dogs in the home.

The ideal home:

Kev is a real character and is a dog who will thrive in a family home with both adults and children. He loves company so a home where someone is around a lot of the day would be preferable.

Because of Kevs history of being returned to us due to him not getting on with the other dog in the home and his reactions when in public we feel
Kev would be happier rehomed as an only dog. He is more than happy with the attention of humans rather than furry friends.

Kev's new family will need to be prepared to put in the time for training and boundaries as he is still young and needs to learn.

Other comments:

Kev has been a pleasure in foster. He is a young dog who craves routine, boundaries, training and love. He is left in the kitchen when his foster family go out as he is like Houdini and can escape a cage in seconds!!!

Kev is being rehomed unneutered as he is not yet 18 months, we will arrange for his neuter and pay for this. It will be a condition of the adoption contract that this is completed by the new owner at a vet of our choice.

Kev is toilet trained and travels well, we will consider a new home for him up to 4 hours from his current location in Coalville in the Midlands.

If you have any questions, please ask Louise Toon foster mum to Kev.

Kev's adoption fee is £450 and will need to be paid in full prior to going home which will also be subject to a home check.


PLEASE READ CAREFULLY BEFORE APPLYING


1. Have you read the adoption criteria in full? You must meet ALL dog's criteria.
2. COMPLETE APPLICATION form and pay your £5 subscription
3. PAYMENT REFERENCE must on the application form to cross reference.
4. PAYMENT METHOD : pay via PayPal www.paypal.me/gbspringboard or
Bank transfer Sort : 09.01.28 Acc : 92014344.


UNLESS WE SEE PROOF YOU HAVE PAID; WE CANNOT PROCESS YOUR APPLICATION
.

£5 per year allows you to apply for as many dogs as you wish should you not be suitable on your first Application.
To apply, please complete the application form below

https://www.cognitoforms.com/GeordieB…/adoptionapplication
{"slide_to_show":"3","slide_to_scroll":"1","autoplay":"true","autoplay_speed":"3000","speed":"800","arrows":"true","dots":"false","loop":"true","centermode":"false"}