Lila is a young cheeky and very playful girl and will happily pick up anything that isn't hers and run off with it. She loves all human contact and will reward you with kisses and cuddles
She loves playing ball and adores being out on her walks. She will tolerate dogs when she is out on her walk but not if they get too close, then she will lunge and bark on occasion.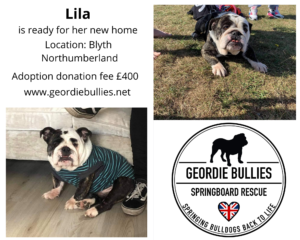 Dogs name: Lila
Age:  4 Years 4 months
Can live with children:  Yes
Can live with dogs: No
Can live with cats:  No and with no other small furry animals.
Current location:  Blyth, Northumberland
Things to be aware of: 
Lila is prone to allergies and specifically, season skin flare ups. This is managed by her having a medicated bath every 2 weeks and with a rub down with CLX wipes.
Lila's foster mum will advise on this and because of her allergies, Lila will need to remain on her raw food diet which Lila is hand fed, again we will advise.
The ideal home: 
Lila is in a very active home with dogs and children at present, but we feel she would be better in a calmer less active, dog free home. She is great with children but she can become excitable so any children in the home will need to be aged 6 years and over if already Bulldog savvy, or 8 years and above if they are not used to being about dogs.
Lila is a chaser of small furries so we cant rehome her where small furry animals are in the home.
Other comments: 
Lila is described by her mum as an absolute pleasure to have, but she has taken a dislike to one of the resident dogs so we are looking for a dog free home for this little girl.
Lila doesn't enjoy travelling and can become stressed, so we are limiting her new home up to 1 hour from her current location in the North East
Lila's adoption donation fee is £400 and will need to be paid in full prior to her going home which will also be subject to a home check.? PLEASE READ CAREFULLY BEFORE APPLYING ?
1. Have you read the adoption criteria in full?  You must meet ALL dog's criteria.
2. COMPLETE APPLICATION form and pay your £5 subscription
3. PAYMENT REFERENCE must on the application form to cross reference.
4. PAYMENT METHOD : pay via PayPal www.paypal.me/gbspringboard or
Bank transfer Sort : 09.01.28 Acc : 92014344.
? UNLESS WE SEE PROOF YOU HAVE PAID; WE CANNOT PROCESS YOUR APPLICATION ?.
£5 per year allows you to apply for as many dogs as you wish should you not be suitable on your first Application.
To apply, please complete the application form below
https://www.cognitoforms.com/GeordieBulliesSpringboard1/adoptionapplication