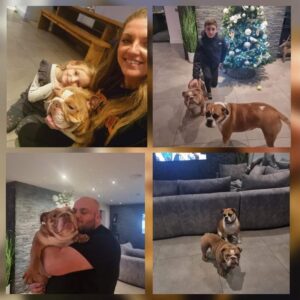 Loki is home!
We are very pleased to announce that Loki has gone home to his new family Lindsey & Antony and their children.
Loki settled quickly into his new life, and had his new mum & dad trained as butlers almost immediately.
Loki loved getting to know his new skin siblings and his new fur sibling Kiki.  They took no time in finding him new adventures has already been out on his first adventure where he met the pony's.
We can see he has already made himself at home and has fitted in perfectly.
So congratulations Lindsey & Antony, and family, we look forward to following Loki's new life with you.
Huge thank you to Carla Rotheram & Carl Goulding on preparing Loki for his new home You've done an amazing job and we will be forever grateful to you.
Loki is a well-behaved little boy who loves all human company, is good with his training and adores his walks.
He enjoys having his canine friends to play with but being a Bulldog, he can be a bit full on so has time out because he tires out the other dogs. Loki loves all his toys, playing fetch and destroying tennis balls (his favourite game). Loki displays no possession, dominance or aggression with the other dogs in the home.
This young boy is a humper but this behaviour is easily controlled with a firm 'No Loki, No humping'
He is still maturing so we would expect this behaviour to diminish as he gets a little older and then stop once he has been neutered.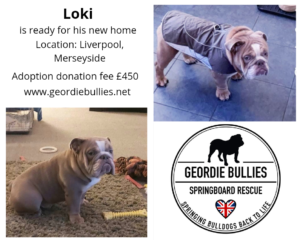 Things to be aware of: 
Loki is being rehomed entire, but we will arrange and pay for the neuter once he has been rehomed at a vet of our choice, therefore he cannot be rehomed with an entire male or female dog.
Loki can be prone to ear infections, so he needs his ears cleaned at least once a week.
The ideal home: 
Loki really enjoys being in an active home with other friendly playful dogs and where there is someone around for a good part of the day so we will be looking for a similar home for him.
Loki can be rehomed where there are children, but we prefer them to be dog savvy.
Other comments: 
Loki a fabulous young boy who is clever and lovable.
{"slide_to_show":"3","slide_to_scroll":"1","autoplay":"true","autoplay_speed":"3000","speed":"800","arrows":"true","dots":"false","loop":"true","centermode":"false"}