Misty is a lovely little girl who is very inquisitive and loves to be involved in anything and everything going on. She adores all human contact, and she really enjoys her walks, meeting and greeting other dogs and just being out and about.
She has a limited knowledge of commands, but this can be worked on in her new home and she has been fine with the 8-year-old boy in her foster home and will go to him for love, cuddles and strokes.
Misty can hear a pin drop from 100 metres and will be there in a second to see what's going on, she doesn't like to miss out on any action.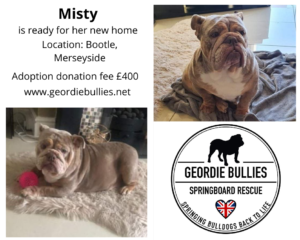 Dogs name: Misty
Age:  4 Years 7 months
Can live with children:  Yes
Can live with dogs: No
Can live with cats:  Untested
Current location:  Bootle, Merseyside
Things to be aware of: 
Misty loves her toys so much she doesn't want to give them up until she is ready so any children in the home will need to be made aware that when Misty has her ball…. Misty has her ball…!  and she doesn't bark to go to do her business, so she needs a set routine to allow her to do so.
Like many Bulldogs, Misty isn't a lover of the hoover or loud noises.
The ideal home: 
Misty has thoroughly enjoyed being in a house where she hasn't been left for long periods, so we are looking for a similar home for her. She is active so regular walks, followed by snuggles is a must for this beauty.
Other comments: 
Misty has really flourished in her foster home and developed from a rather shy girl into a very outgoing and interested in everything kind of girl, its been a pleasure to watch her.
She loves being in the car so we will consider a new home for Misty up to 4 hours from her current location.
Misty's adoption donation fee is £400 and will need to be paid in full prior to her going home which will also be subject to a home check.
? PLEASE READ CAREFULLY BEFORE APPLYING ?

1. Have you read the adoption criteria in full?  You must meet ALL dog's criteria.
2. COMPLETE APPLICATION form and pay your £5 subscription
3. PAYMENT REFERENCE must on the application form to cross reference.
4. PAYMENT METHOD : pay via PayPal www.paypal.me/gbspringboard or
Bank transfer Sort : 09.01.28 Acc : 92014344.

? UNLESS WE SEE PROOF YOU HAVE PAID; WE CANNOT PROCESS YOUR APPLICATION ?.

£5 per year allows you to apply for as many dogs as you wish should you not be suitable on your first Application.
To apply, please complete the application form below

https://www.cognitoforms.com/GeordieBulliesSpringboard1/adoptionapplication