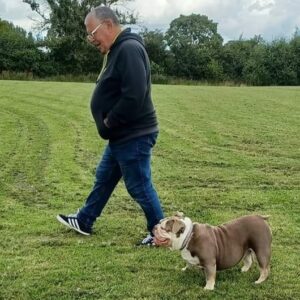 We have some fantastic news!
We are absolutely delighted to tell you Peppa is home.
As you may remember, we put an urgent call out for our Peppa for a foster with a view to adopt if Peppa settled and all was well.
It was important that Peppa doesn't have the upheaval of going back into foster and then moved again to an adoption family, so we made the decision to put her in a foster to adopt situation. To prevent as much trauma as possible.
Well, little Miss Peppapot is now living her best life with Carole and her husband Paul and isn't going anywhere! She has settled beautifully, and Carole and Paul have fallen for all her charms.
So, with no further ado, please join us in congratulating Carole, Paul, and Peppa.
We wish you many wonderful years together that are full of joy and love. Thank you for opening up your heart and home to Peppa!
Peppa's previous adoption statement,
Very sadly due to a change in circumstances Peppa is needing a new family. Her current Mum is heartbroken but has made this decision to make sure Peppa get's the best possible life! 
Peppa is very much the Queen of her castle, like every bulldog should be.
Peppa is ok sharing space with other dogs while out on a walk, and she has gone to another home where a laid back dog lives and there have been no issues.
She is an active girl who doesnt know her size.
Peppa loves a good chew toy and her favourite game is tug of war, but has no concept of fetch. Not surprising really she is a Queen after all she has servants to fetch for her.
Peppa is quite independent and affection is on her terms, she loves a stroke and a good bum scratch. She will come sit beside you when she attention.
And she is not a morning dog by any means and loves a good lie in, and prefers her walks to be later in the day.
Peppa is quite strong on the lead so needs a firm hand, she isn't interested in other dogs while out, she may have a sniff, but much prefers to say hi to the owners and will soon wander off to continue to enjoy her walk in peace.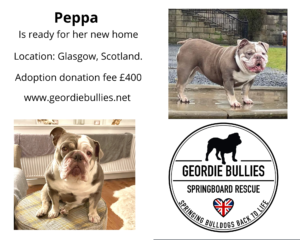 Dogs name: Peppa
Age: 4 years old.
Can live with children: Yes dog savvy children
Can live with dogs: Possibly sterilised laid back dogs.
Can live with cats: No
Current location: Glasgow, Scotland 
Things to be aware of:
Peppa has seasonal allergies, we can advise and support you in how to treat her. Peppa also has dry eye again easy to care for with lubricant drops.
Peppa does not like her bottom being cleaned at all.
As any bulldog Peppa can be excitable during play, any young children must be supervised at all times as Peppa has the potential to knock them over.
She also needs to remain on her Royal Canin Hypoallergenic diet which is readily available.
The ideal home:
Peppa's ideal home would be a calm laid-back but active home where she can potter about and snooze, until play time or time for a walk. Then coming home for some strokes and affection as she winds down ready for bed. Any children in the home would need to be dog savvy and boundaries reinforced by the whole family and she is an active girl.
If there is a dog in the home, we strongly advise slow introductions and the family dog must be accepting of another dog coming into the home.
Other comments:
Peppa's adoption is a sad one, due to her current owner's health issues. She feels she can't give Peppa the care and attention she needs, so made the very difficult decision to ask us to find Peppa a new home. Peppa really is a one of a kind girl, it's hard not to fall in love with her. We dare you to try? 
It's essential that she carries on with training and boundaries in her new home and ideally someone with Bulldog experience.
{"slide_to_show":"3","slide_to_scroll":"1","autoplay":"true","autoplay_speed":"3000","speed":"800","arrows":"true","dots":"false","loop":"true","centermode":"false"}