Lola is very puppy like and very very playful with her toys and with Bear (English Bulldog) in her foster home. In fact, she loves life and loves her humans and will snuggle in for a cuddle.
Walking is a bit part of Lola's life, she absolutely loves getting out to meet and play with her canine buddies. She is so keen to get going, she is a puller on the lead and she needs a firm grip. She is fabulous off her lead and her recall is great, but the pulling will need to be addressed.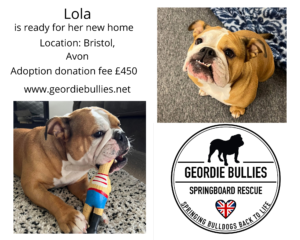 Dogs name: Lola
Age:  2 Years 1 month
Can live with children: Yes aged 12 years and above
Can live with dogs: Yes
Can live with cats:  Untested
Current location:  Bristol, Avon
Things to be aware of: 
Lola suffers from separation anxiety so she will need to have a solid routine in her new home where she is not left for long periods. Any prospective new family need to be prepared for a little bit of regression. She is currently on CBD oil which we recommend she continues with.
The ideal home: 
Lola needs a home where someone will give her time to adjust and take time to understand her needs. She has no malice at all in her, she is very gentle but being left causes her anxiety so her new home must be able to have room for a crate for her for the separation training.
As she is such a playful girl and so great with dogs, we would love her to be rehomed with an equally playful dog for company and have lots of room for mad playtime.
Other comments: 
Lola is a sweetheart of a dog that has two areas that need to be addressed, that's her anxiety and her pulling when she walks, otherwise she is perfect in every other way.
She needs an active but calm home because she is very puppyish and will become very fizzy if she is over stimulated, so any children in the home or visiting will need to be old enough to understand and visiting children supervised.
Lola needs an exceptional owner who wants a beautiful companion to share adventures with.
Lola's adoption donation fee is £450 and will need to be paid in full prior to her going home which will also be subject to a home check.
**The successful applicant will need to have an active Facebook and Messenger account for the life of the dog. If you cannot agree to this, please don't apply**
🚨 PLEASE READ CAREFULLY BEFORE APPLYING 🚨
1. You MUST MEET ALL the dogs' criteria, have you read the adoption criteria in full?
2. COMPLETE APPLICATION FORM
3. PAY YOUR £5 SUBSCRIPTION – SEE NOTE BELOW*
4. PAYMENT REFERENCE must on the application form to cross reference. Mention if you have paid by Paypal or Bank Transfer if you are unable to provide a Transaction Number so we can check.
5. PAYMENT METHOD Via Enthuse using the link below.
https://geordiebullies.enthuse.com/donate
Note:
UNLESS WE SEE PROOF YOU HAVE PAID; WE WILL NOT PROCESS YOUR APPLICATION AND YOU WILL NOT BE CONTACTED.

£5 per year allows you to apply for as many dogs as you wish over a 12 month period from your first  application. Please mention if you have paid by Paypal or Bank Transfer on any previous applications so we can cross reference.

Below is the link to the Application Form.

https://www.cognitoforms.com/GeordieBulliesSpringboard1/adoptionapplication
Follow Lola https://www.facebook.com/geordiebullies/