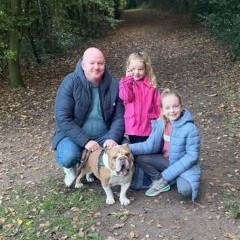 Ralph is Home!
We are thrilled to announce Ralph has found his loving forever home with Victoria, Peter and their two children.
Ralph was collected and is enjoying being part of Victoria's and Peter's family. Ralph is settling into family life well and has enjoyed a few gentle strolls out and about, getting to know his new surroundings.
Please join us in congratulating Victoria, Peter and their family on their gorgeous new baby boy. We wish you all a lifetime of endless fun and happiness together.
To Ralph, Happy forever home darling boy, we look forward to seeing all your future adventures!
A massive thank you to Emma on an amazing first foster. You have been a huge part of Ralph's journey and we know he has worked his way into your hearts.
Thank you so much for caring and loving him like your own.
A little of Ralphs story below,
Ralph is a very playful boy who loves to throw himself around when he plays with his toys or tug of war. He is also very loving and will try and get into a position where he can touch you when he sleeps.
He has a lot of energy and can be strong out walking but he manages 2 miles twice a day and this suits him. He loves his walks, but we were advised by his previous owners he chooses which dogs he wants to interact with. Whilst in foster he has displayed a lot of excitement when he is near a dog but hasn't been close enough to interact.
Ralph thinks all balls and footballs are his and he will steal them from children, so he isn't allowed near when they are playing football.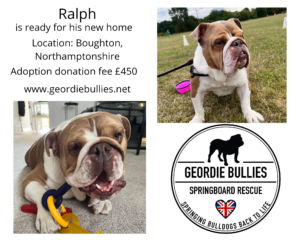 Dogs name: Ralph
Age:  3 Years 1 month
Can live with children: Yes
Can live with dogs: No
Can live with cats:  No
Current location:  Boughton, Northamptonshire
Things to be aware of: 
Ralph has previously had BOAS surgery and his cherry eye gland repocketed, there are no ongoing problems with either procedure.
Ralph can be a little unpredictable with other dogs so we would advise that any introductions are taken slowly. He is usually ok but there is the chance he might react.
The ideal home: 
Ralph really loves being around people so the ideal home for him is where is will not be left for long periods and he will get plenty of interaction and playtime.
He can live with children but as mentioned, he is boisterous when he plays, there is no aggression, but he could knock a child over so young children need to be supervised.
 Other comments: 
Ralph will make a lovely family dog, he is playful, loving and really enjoys the company of adults as well as children.
He loves being in the car and travels well so can easily be taken out on family trip.
{"slide_to_show":"3","slide_to_scroll":"1","autoplay":"true","autoplay_speed":"3000","speed":"800","arrows":"true","dots":"false","loop":"true","centermode":"false"}