Simba is described by his foster family as a lively, active and pig headed boy!!! He is a typical bully and is incredibly stubborn but he is so very lovable and has so much to offer his new forever family. He does like to roll over and play dead if he doesn't want to do something and has bags of character!
Simba wears a harness and lead to walk, he loves walking so gets all excited for his new adventures! He is a slow walker and likes to be the master of his own pace, if something interests him though he can pull! Simba requires an active family who can take him on lots of adventures but he does have a hatred for rain or water, so much so that his foster dad has had to carry him previously!!
Simba has good recall and tends to follow whomever is holding the lead.
Simba is a clever boy and knows the commands sit, move, calm and kiss, the later he gives you a snog! He is also used to the word 'Ah' when you want him to leave something.
Simba likes to play with soft toys and will chase when you throw it. He's not really sure of rough play as he's still learning about play.
Simba has no issues with his fold cleaning routine and being pampered in general.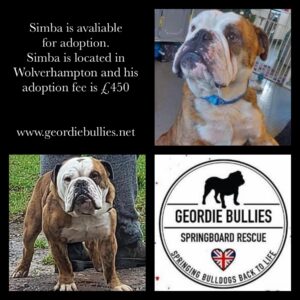 Dogs name: Simba
Age:  2 years old (3 in March)
Spayed/ Neutered: Yes
Can live with children: Yes
Age of children : Any
Can live with dogs: Yes needs a female doggy companion.
Can live with cats: yes but he can give chase
Current location: Wolverhampton
How far can the dog travel from current location: 4 hours
Things to be aware of:  
Simba is a really fantastic all round dog though he can be shy of larger dogs. He seems to be quite nervous and scared so we would be looking to home simba with a female friend bulldog sized or smaller.
Simba has some issues with allergies and does not tolerate kibble at all. Simba is on a raw diet and MUST remain on this. We can give further guidance on a raw diet to his successful forever family.
Simba can also be a food gobbler and choke on his food so his foster family use a slow feeder.
Simba has been in foster with a cat and he can chase them but he shows no aggression and is getting better as time goes on.
Simba is a very bouncy dog and can jump up, he will need further training going forward to teach him the manners he requires.
Simba can be nervous of loud noises such as banging and shouting and will bark at it to let you know he isn't happy.
The ideal home: 
Simba is an absolute love who adores attention and loves to just be near his humans. He does however need continued firm boundaries and rules putting into place as he is still young and learning. He needs an active family who love to get outdoors and walk.
Simba loves his foster fur sister and he will need a companion in his new home who is bulldog sized or smaller.
Simba can be rehomed with children of any age but an awareness must be shown that he is bouncy. It would be great if any children in the home could participate in his training Simba and help him to learn good behaviours.
Other comments:
Simba has been a pleasure in foster, he is an adorable, bouncy boy who with the right active family will continue to flourish. Simba sleeps in a crate and settles well.
Simba is toilet trained, as long as you are aware of his cues and ensure he regularly goes out. Simba travels well, we will consider a new home for him up to 4 hours from his current location in Wolverhampton.
If you have any questions, please ask Jenni Stone foster mum to Simba.
Simba's adoption fee is £450 and will need to be paid in full prior to going home which will also be subject to a home check.
?? PLEASE READ CAREFULLY BEFORE APPLYING ??
Have you read the adoption criteria in full?  You must meet ALL dog's criteria. 
COMPLETE APPLICATION form and pay your £5 subscription 
PAYMENT REFERENCE must on the application form to cross reference. 
PAYMENT METHOD : pay via PayPal www.paypal.me/gbspringboard or
Bank transfer Sort : 09.01.28 Acc : 92014344. 
?? UNLESS WE SEE PROOF YOU HAVE PAID; WE CANNOT PROCESS YOUR APPLICATION ??. 
£5 per year allows you to apply for as many dogs as you wish should you not be suitable on your first Application.
To apply, please complete the application form below
https://www.cognitoforms.com/GeordieBulliesSpringboard1/adoptionapplication