Luna is a beautiful soul. She is, however, a typical Bulldog and has selective hearing!
She enjoys walking but prefers to walk to your right-hand side due to her sight issues. Luna does enjoy being off lead but prefers to follow so she can keep her eye on you.
Luna gets on well with dogs both in and out of the home. She can follow commands such as sit, give, paw, wait and go to bed. Luna loves playing with toys, especially balls and shows no possessiveness.
Dogs name: Luna
Age: 4
Can live with children: Ages 5 and above


Can live with dogs: Yes

Can live with cats: Untested but we cannot see an issue.

Current location: North west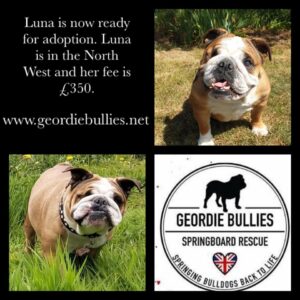 Things to be aware of:

Luna had an eye removed due to ulceration in 2019, her remaining eye is dry and requires regular eye drops. Due to Luna only having one eye and because her vision in that eye is compromised, she can startle if approached wrongly. Luna can also snatch treats, but her family is still working on this. Luna also needs her ears cleaning regularly as they can easily get dirty (she isn't a fan of this!).
Luna will be rehomed un-spayed and will therefore not be rehomed with and entire male, we will need to see evidence that any resident male is neutered.

The ideal home:

Luna would fit into most family situations. We feel that she would benefit from living with another dog to give her company, We feel that Luna would be more suited to a home with slightly older children, 5 years old and over, as her sight in her eye could create issues with small children who do not understand how to approach her. She can also snatch food so again older children would manage this behaviour better. Luna loves human contact, especially a good old butt rub!

Other comments:

Luna little legs has been a pleasure in foster. She can be left for up to 4 hours in a day and has used a crate in foster.

As Luna is being rehomed unspayed, we will arrange for her spay and pay for this. It will be a condition of the adoption contract that this is completed by the new owner at a vet of our choice.

Luna is toilet trained and travels well, we will consider a new home for her up to 4 hours from her current location in Congleton.

If you have any questions, please ask Christiane Green foster mum to Luna

Luna's adoption fee is £350 and will need to be paid in full prior to Luna going home which will also be subject to a home check.



?

?

 PLEASE READ CAREFULLY BEFORE APPLYING 

?

?



1. Have you read the adoption criteria in full? You must meet ALL dog's criteria.
2. COMPLETE APPLICATION form and pay your £5 subscription
3. PAYMENT REFERENCE must on the application form to cross reference.
4. PAYMENT METHOD : pay via PayPal www.paypal.me/gbspringboard or
Bank transfer Sort : 09.01.28 Acc : 92014344.



?

?

 UNLESS WE SEE PROOF YOU HAVE PAID; WE CANNOT PROCESS YOUR APPLICATION 

?

?

.

£5 per year allows you to apply for as many dogs as you wish should you not be suitable on your first Application.
To apply, please complete the application form below

https://www.cognitoforms.com/GeordieBulliesSpringboard1/adoptionapplication
{"slide_to_show":"3","slide_to_scroll":"1","autoplay":"true","autoplay_speed":"3000","speed":"800","arrows":"true","dots":"false","loop":"true","centermode":"false"}