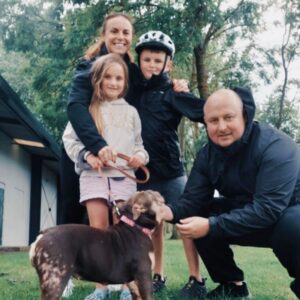 Marley is Home
We are absolutely thrilled to tell you Marley is home and has settled very well with Helen and her family.
Marley has had a settled first night and has been enjoying all the attention from her foster siblings.
With no further ado, please wish Helen, Marley, and her family many congratulations.
We wish you all the happiest of lives together.
To Marley enjoy your fabulous new beginnings, sweetheart, and we can't wait to see all your new adventures!
Thank you to Emma Turnbull and family for taking great care of Marley and preparing her for her forever home. We are very grateful to you for all your help as always.
Previous adoption statement.
Dogs name: Marley
Age: 8 months old
Current location: Newcastle Upon Tyne, Northumberland.
I CAN LIVE WITH
Children: Yes, I love children
Cats: No
Female dogs: No
Male Dogs: Yes if calm and laid back.
About me:
Marley is a typical energetic, inquisitive, and affectionate bulldog puppy.
Marley is extremely affectionate towards her humans and will seek out cuddles and attention.
She is a lot of fun to play with and absolutely adores children, balls and anything she can run around with.
Needs:
Marley would suit an active family, who will keep her involved with all that is daily family life.
Marley is still a young pup and can be very excitable so she needs a patient family who can commit to training her and provide her boundaries
She is such a high energy playful girl and would benefit from having a calm and laid-back male in the home. Any male dog in the home must be neutered as Marley is still too young to be spayed.
Marley loves her walks and likes to be at the front of the pack. She is walked oncer a day for about 30 minutes and is happy to sniff at other dogs. She has shown no signs of being reactive whilst out.
Can be left:
Marley can be left for up to four hours in her crate so ideally, she will have one in her new home. She is a good girl in a crate, its her safe space especially if she has her red blanket, and some toys to chew on.
Toilet trained:
Yes but may have accidents in a new home initially.
Travel:
Marley travels very well, with a seatbelt restraint.
Things to be aware of: 
Marley will be spayed at around 18months old, and as such she will be going home on a "to be spayed" contract which will be undertaken at a vet of our choice with costs covered by the charity
Marley has seasonal alopecia which requires no treatment.
Any children in the home must be supervised, as Marley is an excitable young pup with sharp claws and has the potential to jump and knock smaller children over.
Children must understand that bulldogs need time to settle in and have space to rest peacefully and uninterrupted.
Marley is the sweetest young girl with the biggest personality. She is a typical bulldog puppy full of energy and excitable she needs a confident family who understands the breed and can bring her on to reach her full potential.
A little of Marley's story below
Please say hello and a big welcome Marley into the folds of GBSR!
Marley is 8 month old puppy and is an extremely sad owner hand in.
We were contacted by a lady via our Facebook page. Marley's owner lost her partner at the end of last year and left his beloved dog molly behind.
Everything was fine with the two girls until Marley came into season and started picking on Molly but with Molly being an older dog she didn't fight back, and the situation was escalating between them and their owner was concerned for their welfare.
Marley's owner needed to make a very difficult decision regarding rehoming her, but with her being so young she didn't want her passed around and potentially ending up in the wrong hands.
She was recommended to contact us and thankfully she did.
Marley is in great health and will have a check-up at the vets just to confirm.
She is currently having a season. 
We would like to say a massive thank you to Emma & Dan for collecting Marley and keeping her in foster in the North East. We know it was a very emotional hand over for all involved.
When she is ready for her forever home her adoption Poster will be shared, so please keep your eyes peeled for more #Marley updates on our rescue group.
Welcome to your GBSR Family Marley! We cannot wait to share the next chapter of your life with you.
{"slide_to_show":"3","slide_to_scroll":"1","autoplay":"true","autoplay_speed":"3000","speed":"800","arrows":"true","dots":"false","loop":"true","centermode":"false"}