Max – is ready for adoption – South East
Max is a cheeky and very loveable, chatty young boy who loves life. He adores all human contact unless he is having eye drops administered, in which case he will try and wriggle away but otherwise he will let you hug, stroke and pick him up.
He is playful and has settled very well with Bonnie (adopted GBSR girl) in his foster home. Rough play hasn't been encouraged as he can get over excited and he loves his chew toys, balls and Licky Mat. Max shows no possession or aggression with toys or food.
Max gets super excited when he see's his harness but sometimes needs a bit of encouragement to walk. His foster mum makes him sit by the door before leaving the house and then once he is out, he is off. He has never been trained to walk on one side and will zig zag but he is a smart cookie and this can be addressed in his new home.
Max will happily meet and greet dogs and people and will sometimes get excited and jump to get to them. He has only been lead walked so might benefit from being walked in a secure field to run off some energy and to practice recall.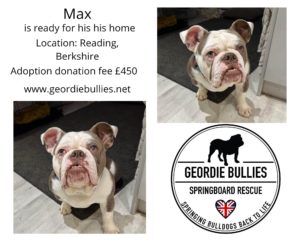 Dogs name: Max
Age:  15 months
Can live with children: Yes
Can live with dogs: Yes
Can live with cats:  Untested
Current location:  Reading, Berkshire
Things to be aware of: 
Max has had both cherry eye glands removed and has non-prescription eye drops twice a day which will need to carry on. He isn't overly keen on having them but once he in pinned down its over in seconds and he has only been having them for a short while so it will get easier over time.
Sometimes Max will pee on the floor. His toilet training is 99% but he may regress a little in his new home, so he needs a routine set.
The ideal home: 
Max is a quick learner, and he would benefit from a confident unreactive dog in his new home to learn from. He is active and likes to be around his family so his new home needs to be where he wont be left for long periods.
Max has been around a baby in his foster home, and we feel he can live with children, but obviously young children must always be supervised.
Other comments: 
Max has been like a little star that has started to shine in his foster home. He thinks its great fun to get on the sofa at any given opportunity and to dig his feet in when his foster family tell him to get off. He gets off eventually, but Max is a chatterbox that sounds like a Mogwai and will always have something to say about it.
He is being treat trained when out walking and this seems to be working well.
Max is young and he is excitable so will need continued boundary setting in his new home so he can continue to flourish.
Max's adoption donation fee is £450 and will need to be paid in full prior to him going home which will also be subject to a home check.
**The successful applicant will need to have an active Facebook and Messenger account for the life of the dog. If you cannot agree to this, please don't apply**
🚨 PLEASE READ CAREFULLY BEFORE APPLYING 🚨
1. You MUST MEET ALL the dogs' criteria, have you read the adoption criteria in full?
2. COMPLETE APPLICATION FORM
3. PAY YOUR £5 SUBSCRIPTION – SEE NOTE BELOW*
4. PAYMENT REFERENCE must on the application form to cross reference. Mention if you have paid by Paypal or Bank Transfer if you are unable to provide a Transaction Number so we can check.
PAYMENT METHOD Via Enthuse using the link below.
https://geordiebullies.enthuse.com/donate
Note:
UNLESS WE SEE PROOF YOU HAVE PAID; WE WILL NOT PROCESS YOUR APPLICATION AND YOU WILL NOT BE CONTACTED.

£5 per year allows you to apply for as many dogs as you wish over a 12 month period from your first  application. Please mention if you have paid by Paypal or Bank Transfer on any previous applications so we can cross reference.
Below is the link to the Application Form.

https://www.cognitoforms.com/GeordieBulliesSpringboard1/adoptionapplication