Max – Ready for Adoption! – Yorkshire
What can we say about our beautiful Max? Max came to GBSR with his brother Paddy. He had been kept crated for most of the day, no training at all for the majority of his short life. He was adopted but returned to our care as his new family didn't continue with his training and reverted to keeping him in a crate, causing Max to regress. As you can imagine this hasn't helped Max grow into a well-adjusted bulldog. Max is a wonderfully sweet and affectionate boy, he is vocal and funny and so cheeky that you just cant help yourself falling in love with him. He is a little quirky and has the most amazing character.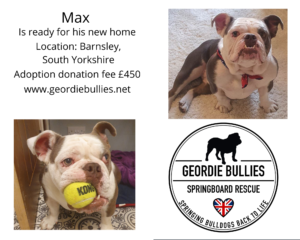 Dogs name: Max
Age:18 months
Can live with children: Older dog savvy children.
Can live with dogs: Possibly calm laid back spayed/neutered dogs.
Can live with cats: Not tested.
Current location: Barnsley, South Yorkshire.   
Things to be aware of: Max had cherry eye surgery, unfortunately he had to have his tear gland removed, so he needs lubrication drops to prevent dry eye. Poor Max is reactive outside of the home and suffers separation anxiety.  Max is responding very well to the training his foster family have implemented. He continues to improve almost daily. This would have to continue into his new home. Any potential family would need to be dedicated to training and to do what is best for Max, to give him the life he deserves. Because of Max's big bouncy nature any young children must be supervised as he could possibly knock them over. Any dog in the home must be accepting of another dog coming into the home.
 The ideal home: Max needs an active family home with older dog savvy children. One he can be included in day-to-day activities. He needs a family that can dedicate the time and patience to his training to help him reach his full potential. A calm laid back dog to keep him company and reduce his anxiety would do him the world of good. Most importantly Max needs a home and family willing and able to put in the time he needs, and be completely understanding that Max success wont be over night.
 Other comments: Max coming back into our care was devastating for him. That he came back into our care needing more support. Max stole our hearts the moment he came to GBSR, his chatty personality like he is arguing back. That quirky face of his and how he looks at you. Truly the most amazing Bulldog personality. Max is still so young, and he deserves a loving family, that is willing to put in some hard work, to help him regain his confidence and overcome his reactivity.   
Max's adoption donation fee is £450 and will need to be paid in full prior to him going home which will also be subject to a home check.
**The successful applicant will need to have an active Facebook and Messenger account for the life of the dog. If you cannot agree to this, please don't apply**
🚨 PLEASE READ CAREFULLY BEFORE APPLYING 🚨
You MUST MEET ALL the dogs' criteria, have you read the adoption criteria in full?
COMPLETE APPLICATION FORM
PAY YOUR £5 SUBSCRIPTION – SEE NOTE BELOW*
PAYMENT REFERENCE must on the application form to cross reference. Mention if you have paid by Paypal or Bank Transfer if you are unable to provide a Transaction Number so we can check.
PAYMENT METHOD Via Enthuse using the link below.
https://geordiebullies.enthuse.com/donate
Note:
UNLESS WE SEE PROOF YOU HAVE PAID; WE WILL NOT PROCESS YOUR APPLICATION AND YOU WILL NOT BE CONTACTED.
£5 per year allows you to apply for as many dogs as you wish over a 12 month period from your first  application. Please mention if you have paid by Paypal or Bank Transfer on any previous applications so we can cross reference.
Below is the link to the Application Form.
https://www.cognitoforms.com/GeordieBulliesSpringboard1/adoptionapplication
Please welcome Max back into the arms of his GBSR family.
Very sadly Max's new family have had to make the heart-breaking decision to return Max to us, their own dog couldn't cope with Max and was becoming withdrawn.
Max hasn't been trained from a young age puppy skill of doggy manners. They have worked very hard with Max under our guidance and support but sadly he wasn't progressing how he should have been and he's still being a little tinker.
This decision wasn't made lightly Max's family are understandably devastated at having to part with him, but they know they have made the right decision both by Max and their own dog.
Max is a puppy in a grown dog's body. He is just too much for their girl.
Max is now in foster with Ian in Yorkshire. Ian and his partner put a camera up to watch Max at night as Max was crying and it's become apparent that Max is peeing in his sleep, he was living in a crate for much of his life, so he didn't get to toilet train properly.
This sweet little pup will be going to puppy training classes to help with his socialisation and all things puppy.
Max will be under a period of training and assessment for a while so please do not contact us about him just yet.
Welcome back sweet boy.
Follow Max https://www.facebook.com/geordiebullies/
{"slide_to_show":"3","slide_to_scroll":"1","autoplay":"true","autoplay_speed":"3000","speed":"800","arrows":"true","dots":"false","loop":"true","centermode":"false"}