Loveable, lively, playful, outgoing, friendly & smart, these describe Meko to a T. He lives with 2 smaller dogs with no problems over toys or food and he is learning how to be a family dog from them.
Meko understands commands although recall usually involves a treat for encouragement and he is good with other dogs on his walks.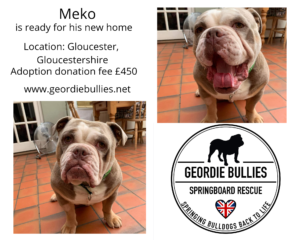 Dogs name: Meko
Age:  3 Years, 2 months
Can live with children: Yes, aged 12 years and over
Can live with dogs: Yes
Can live with cats:  No
Current location:  Gloucester, Gloucestershire
Things to be aware of: 
Meko is a thief; he will take anything he know he shouldn't have and then doesn't want to give it up.
This happens every few days and is getting less. His foster family manage him by keeping a collar on him which they use to pull him away from the item as he will lunge if you try and remove it from in front of him. Meko's Foster Mum explains he needs clear, calm, and consistent reinforcement.
He sleeps in a crate overnight and will have the odd accident.
The ideal home: 
It would be fabulous for Meko to have an equally friendly dog in the home, robust enough for lots of bundles and playtime.
Meko has decompressed beautifully over the past few weeks in the calm environment of his foster home so a similar home will be perfect for him. He hasn't been around children since being in foster, so we are stipulating any children in the home need to be aged 12 years and over. Any visiting children will need to be supervised.
He enjoys being in a garden and regular walks so this is essential in his new home.
Other comments: 
Meko's life up to now hasn't been the typical loving home. He is a fabulous little lad who is a product of his previous unstable environment. He came into foster stressed and scared and still ducks when a hand is near his head or when he hears a chain lead, but he has thrived in a calm environment, blossomed in fact.
He still needs to learn some manners, jumping up at people or the counter when prepping food needs to be addressed but his behaviour is changing almost daily, he is smart, and he will learn the rules in his new home. The thieving is becoming less and less and his foster mum shows disinterest in what he has taken and he then loses interest, its all a big game for this cheeky lad.
He needs a firm owner who will help Meko understand what's right and what's not with positive re-enforcement
Meko isn't used to travelling so we are looking for a home close to his current location and he will need a passenger in the car with him.
Meko's adoption donation fee is £450 and will need to be paid in full prior to him going home which will also be subject to a home check.
🚨 PLEASE READ CAREFULLY BEFORE APPLYING 🚨

1. You MUST MEET ALL the dogs' criteria, have you read the adoption criteria in full? 
COMPLETE APPLICATION FORM
PAY YOUR £5 SUBSCRIPTION – SEE NOTE BELOW**


PAYMENT REFERENCE must on the application form to cross reference. Mention if you have paid by Paypal or Bank Transfer if you are unable to provide a Transaction Number so we can check.


PAYMENT METHOD Via Enthuse using the link below.
Geordie Bullies Springboard Rescue – donate

Note:
UNLESS WE SEE PROOF YOU HAVE PAID; WE WILL NOT PROCESS YOUR APPLICATION AND YOU WILL NOT BE CONTACTED.

£5 per year allows you to apply for as many dogs as you wish over a 12 month period from your first  application. Please mention if you have paid by Paypal or Bank Transfer on any previous applications so we can cross reference.

Below is the link to the Application Form.

https://www.cognitoforms.com/GeordieBulliesSpringboard1/adoptionapplication