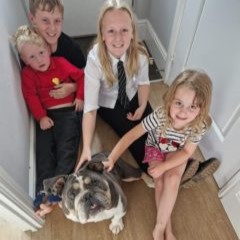 Minnie is home!
It was a double celebration weekend for the gorgeous Minnie!
Her new family collected her just in time for Little Miss Minnie birthday. The perfect start to her happily ever after. She is now living with Samantha, Richard and their beautiful children.
Minnie wasted no time getting to know everyone and has had a settled really well. She soon had the whole family under her paw, like she had always been part of their family.
Please join us in congratulating Samantha, Richard and their four beautiful children on their gorgeous baby girl and to Minnie.
To Minnie have a fabulous new life sweetheart, We are looking forward to seeing all your new adventures Be happy x
A huge thank you to Melanie who has done a fabulous job caring and preparing Minnie for her forever home . Thank you so much x
A little of Minnie's story below,
Minnie is a very loving girl who adores all human contact. She is active and full of life and has really enjoyed following her foster mum around and getting involved in everything.
She has met the dog savvy cat and just sniffed her, and she lives with a female neutered EB in foster, and they have been fine apart from the odd spat over a toy. Minnie is a playful girl and enjoys her tuggy toys and will play rough and tumble.
Minnie lives for her walks, and she is a happy greeter with other dogs outside the home and has good recall.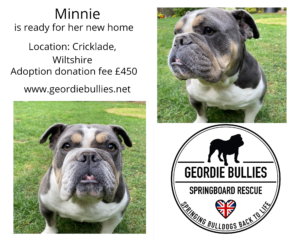 Dogs name: Minnie
Age: 2 years 11 months
Can live with children: Yes
Can live with dogs: Yes – must be sterilised
Can live with cats: Yes with a dog savvy cat
Current location: Cricklade, Wiltshire
Things to be aware of:
Minnie recently finished her season so we will arrange with a vet of our choice for her to be spayed in a couple of months and the charity will cover the cost of this.
When she is excited Minnie sometimes humps but this is easily fixed with a firm NO.
She also has a few bald patches on her body, but her diet has been changed and she is having baths to help her skin heal, we don't anticipate this to be an ongoing issue.
The ideal home:
Minnie needs to be in a home that is active, where she will be taken out and be included as part of the family, she loves life so being left at home alone for long periods will not work for her.
She has lived with children before and been in the company of children whilst in foster. She is a typical clumsy Bulldog, and she might hump when she gets excited so any children will need to be dog savvy and younger children supervised.
It would be lovely for there to be a friendly, playful, laid-back dog in the home for company and as she will be rehomed entire, any resident dogs must be sterilised.
Other comments:
Minnie has been fabulous in foster. She seems to prefer females to males but equally friendly to both. She is a very well-rounded dog, with no issues and who will make a smashing family pet.
{"slide_to_show":"3","slide_to_scroll":"1","autoplay":"true","autoplay_speed":"3000","speed":"800","arrows":"true","dots":"false","loop":"true","centermode":"false"}