Millie is a very loving Bulldog who is very well behaved. She enjoys human interaction very much and will come for belly rubs, cuddles and kisses.
She has interacted with William and Ruby (both EB's) very well in her foster home, although she won't let them have her 'snuggle monkey' as that's her favourite toy which she suckles on and goes to bed with.
She is very playful and enjoys tug of war and playing with her ball and she happily plays with the other dogs in her foster home.
Millie has excellent recall and understands commands well.
She enjoys her walks and is fine with other dogs outside the home
Millie has ignored the resident cat, but she has also chased it so any cat in her new home will need to be dog savvy.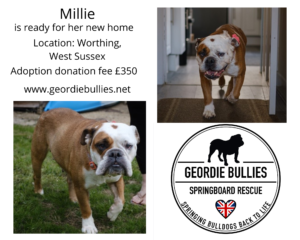 Dogs name: Millie
Age:  5 years 11 months
Can live with children: Yes, aged 8 years and above
Can live with dogs: Yes – must be sterilised
Can live with cats:  Yes
Current location:  Worthing, West Sussex
Things to be aware of: 
Millie will need to be spayed in her new home. The charity will pay for this and will liaise with the new owners to arrange a suitable date with a vet of their choice.
We think Millie may have had a bad experience with her back end at some point in the past, possibly anal gland related.
She will turn quickly if her back end is rubbed, and she will need to be muzzled if she visits a vet, we can only assume this is where the trauma happened.
Millie has dry eyes which has left her with limited eyesight and has Optimmune eye drops twice a day. Optimmune is available on prescription and can be ordered directly from an online supplier, we can advise.
The ideal home: 
Millie would suit a calm home with another playful dog for company. She enjoys her walks and having lots of attention and loves.
Children around her need to be aware she is testy if her back end is rubbed so we feel children aged 8 years and above would be ok as they will be old enough to understand and obviously any young children would need to be supervised.
She is also partially sighted so any children need to understand this.
Other comments: 
Millie is a fabulous girl who came into us very skinny with hair loss. She is now over 2 kilos heavier, and her hair is growing back slowly.
Clearly something unpleasant has happened to Millie's back end which has left her scarred, but this shouldn't put anyone off applying for her. She really is the sweetest girl who loves to please and doesn't put a paw wrong.
If she is rehomed with another friendly dog, that dog will need to be sterilised, be relaxed about sharing toys and be used to having another dog sharing its space.
In a word, Millie is a sweetheart, she travels well so we will consider her new home up to 4 hours from her current location in Sussex.
Millie's adoption donation fee is £350 and will need to be paid in full prior to her going home which will also be subject to a home check.

🚨 PLEASE READ CAREFULLY BEFORE APPLYING 🚨

1. You MUST MEET ALL the dogs' criteria, have you read the adoption criteria in full? 
2. COMPLETE APPLICATION FOR
3. PAY YOUR £5 SUBSCRIPTION – SEE NOTE BELOW**
4. PAYMENT REFERENCE must on the application form to cross reference. Mention if you have paid by Paypal or Bank Transfer if you are unable to provide a Transaction Number so we can check.
5. PAYMENT METHOD Via Enthuse using the  link below.
Geordie Bullies Springboard Rescue – donate

Note:
UNLESS WE SEE PROOF YOU HAVE PAID; WE WILL NOT PROCESS YOUR APPLICATION AND YOU WILL NOT BE CONTACTED.

£5 per year allows you to apply for as many dogs as you wish over a 12 month period from your first  application. Please mention if you have paid by Paypal or Bank Transfer on any previous applications so we can cross reference.

Here is the link to the Application Form.

https://www.cognitoforms.com/GeordieBulliesSpringboard1/adoptionapplication
{"slide_to_show":"3","slide_to_scroll":"1","autoplay":"true","autoplay_speed":"3000","speed":"800","arrows":"true","dots":"false","loop":"true","centermode":"false"}