Minnie – is ready for adoption – South West
Minnie is an adorable and reserved lady. She is quite independent and will seek out human interaction on her terms. She is not a playful dog, preferring a comfy warm bed to spend her day relaxing in. She is not as stubborn as much of the breed and has no food aggression. Whilst she currently lives with the resident dog and can be attention possessive. She is a dog that much prefers her own space.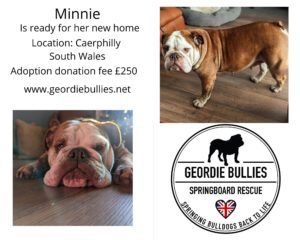 Dogs name: Minnie
Age: 7 years old.
Can live with children: Yes
Can live with dogs: Yes, laid back dogs
Can live with cats: Untested. 
Current location: Caerphilly, South Wales
Things to be aware of: 
Minnie comes from living as part of a large pack, which she didn't cope well with, she is clearly conscious of hierarchy and can be nervous of overstepping boundaries. This caused issues in her previous home when all dogs were left unattended at night. Minnie enjoys a walk and can become boisterous and bouncy in excitement when she sees her collar and harness, but walks very well. And walks well as part of a pair, is confident when meeting other dogs although this can sometimes be intimidating to other dogs. Minnie has some skin tags that will need to be monitored closely, with regular checks with a vet.
The ideal home:
Minnie needs a calm home, where she can spend her days enjoying the company of her humans, long walks and new experiences. She could live with a laid back dog, that is happy for her to be the Queen Bee she is. Minnie will need her own space i.e. her own crate or room when being left unattended during the day and night. Any young children will need to be supervised and understand that Minnie needs her own space and quite time, also that she does become excitable and boisterous at times.
 Other comments: 
Minnie has stolen the hearts of all of us here at GBSR, she really is a beautifully laid back girl. We have no doubt that she will thrive in the right home.
Minnies adoption donation fee is £250 and will need to be paid in full prior to her going home which will also be subject to a home check.
**The successful applicant will need to have an active Facebook and Messenger account for the life of the dog. If you cannot agree to this, please don't apply**
 🚨 PLEASE READ CAREFULLY BEFORE APPLYING 🚨
You MUST MEET ALL the dogs' criteria, have you read the adoption criteria in full?
COMPLETE APPLICATION FORM
PAY YOUR £5 SUBSCRIPTION – SEE NOTE BELOW*
PAYMENT REFERENCE must on the application form to cross reference. Mention if you have paid by Paypal or Bank Transfer if you are unable to provide a Transaction Number so we can check.
PAYMENT METHOD Via Enthuse using the link below.
https://geordiebullies.enthuse.com/donate
Note:
UNLESS WE SEE PROOF YOU HAVE PAID; WE WILL NOT PROCESS YOUR APPLICATION AND YOU WILL NOT BE CONTACTED.
£5 per year allows you to apply for as many dogs as you wish over a 12 month period from your first  application. Please mention if you have paid by Paypal or Bank Transfer on any previous applications so we can cross reference.
Below is the link to the Application Form.
https://www.cognitoforms.com/GeordieBulliesSpringboard1/adoptionapplication
{"slide_to_show":"3","slide_to_scroll":"1","autoplay":"true","autoplay_speed":"3000","speed":"800","arrows":"true","dots":"false","loop":"true","centermode":"false"}