Nikita – In Forever Foster – North West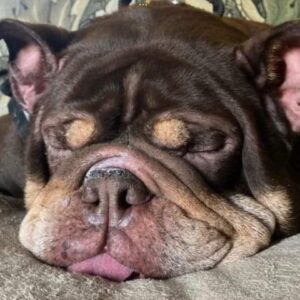 Please say Hello and Welcome to our beautiful Nikita,
Nikita's story is not an easy one to read, but please do and we will tell you a story of heart ache and explain why Nikita is a forever foster! 
Nikita is a 6-year-old unspayed bitch.
We were contacted by her owner, who explained to us that due to a change in her circumstances and moving Nikita was being left all day alone. Her owner explained that it wasn't fair on Nikita and asked us to take her into our care.
As always, we ask for as detailed as possible history so we can find the best suited foster home for our dogs.
This is where her heart ache begins,
Nikita had been used as a breeding bitch in Germany up until 2 years ago when a lady rescued her. Nikita had been bred back-to-back having multiple litters, like a puppy factory just popping out puppies and making humans thousands in revenue. Nikita was sold and imported to the UK, to another breeder resulting in poorly puppies. A lady then rescued her and took her away from that life. A life of being used for human's financial gain, with little to no care for Nikita's health or wellbeing.
Nikita had spent two years with this lady until a change in circumstances resulted in Nikita being left all day alone. Which is no good for any dog, her owner contacted us for help. Of course we would take her, we couldn't risk her falling into the hands of another terrible breeder, to continue her life of torment.
Nikita wasn't in the best condition when she came into us, but after a life she has had it isn't any surprise. She has a horrendously saggy undercarriage, patches of fur missing and some lumps and bumps that gave us concern. Her eyes were red and sore, we booked her into our vet and her Foster Mum Sue started bathing her eyes and giving TLC straight away.
Sue Nikita's amazing Foster Mum took to making Nikita as comfortable as possible. Spoiling her with affection as away to make Nikita comfortable. This made it possible for Sue to give Nikita's body a thorough check over.  Almost immediately Sue found a lump on her belly right in between her nipples, and over the next couple of days it had grew at an alarming rate. The skin almost look like it is going to burst from Ulceration.
Our vet managed to squeeze Nikita in. All of us at GBSR hoped and prayed that she was going to be ok, but our worst fears were confirmed. Nikita had fast growing aggressive tumour. We had no idea of a prognosis, but the vet booked her in for emergency surgery.
We hoped and prayed that Nikita got her very own Christmas Miracle. But sadly it wasn't the case. Nikita has a widespread aggressive form of Cancer, it's in her lungs, and throughout out her mammary glands.
The veterinary team at vets4pets Keighley have been truly amazing. They have removed the giant tumour, but sadly, that's all they can do. Nikita wouldn't survive the surgery it's too widespread. They are supporting us to keep Nikita as comfortable as possible during her last few months.
We are all utterly heartbroken, but none are as devastated as her foster family, who have bravely and selflessly chosen to see her through to the end.
But someone out there over the Rainbow Bridge brought Nikita to us. Knowing we would do everything we can for her. So that is what we are going to do.
Nikita is now a forever foster. She now knows unconditional love and what it feels like to be treasured. She will never again know what it feels like to be scared, used, lonely, and unloved, not for a single second. She will never again be thrown away like nothing
When it becomes time for Nikita to say goodbye, she will be guided to the rainbow bridge, with a full tummy, a heart full of love, a soul full of peace, and joy.
We can't tell you how great full we are for Nikita' foster family, how they have taken all this in, and are determined to give her the life she so rightly deserves no matter how short!
Not all our stories can have happy ever afters, but we pray we don't get many of these stories. We will never turn a dog away who is at risk and need us. And will make sure that every day our dogs know nothing but unconditional love and happiness!
Follow Nikita https://www.facebook.com/geordiebullies/
{"slide_to_show":"3","slide_to_scroll":"1","autoplay":"true","autoplay_speed":"3000","speed":"800","arrows":"true","dots":"false","loop":"true","centermode":"false"}