Mozzy is an adorable, submissive young Bulldog who is very laid back and takes life in his stride which is generally a slow plod.
He loves all attention and will happily be stroked and cuddled. His favourite toys are the chew types, coffee sticks, antlers etc.
He enjoys his walks but 30 mins twice a day is enough for him, He has no issues meeting dogs outside the home but definitely prefers walking with Bonnie, the resident Bulldog as she provides him with confidence.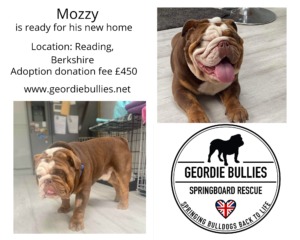 Dogs name: Mozzy
Age:  1 Year 5 months  
Can live with children: Yes
Can live with dogs: Yes, friendly female dog
Can live with cats:  Untested
Current location:  Reading, Berkshire
Things to be aware of: 
Mozzy is fed separately because the previous owner mentioned there was food aggression, but his nature doesn't suggest this. We would advise this is continued in the new home if there is a resident dog, and then it can possibly be discontinued.
Mozzy has had a few accidents in the home. He prefers to do his business in the garden and sometimes forgets to ask to go out. He hasn't been in foster long and is something that can be easily worked on in a new home with a routine.
Mozzy enjoys the security of a crate which is used at bedtime and when his foster family have to go out so he will need the same setup in his new home.
The ideal home: 
Mozzy will fit into any home really, ideally with a friendly female dog for companionship and with a garden where he can mooch about and play.
He is untested with children although he hasn't been disturbed by the cries and noises from the 6-month-old baby in the foster home and has been very gentle around her.
Mozzy is a big lad and quite clumsy and could knock a young child over, so discretion is advised and obviously young children supervised.
Other comments: 
Mozzy has been amazing in foster and his foster family love him. He has really enjoyed having another playful dog for companionship and ideally, he will have a new friendly playmate in his forever home.
He will never be a long-distance walker; he is too laid back for that so access to a garden is a must, so he gets exercise.
His current foster home is calm and this suits his nature so a similar home will be better for him.
This little lad can become anxious travelling so we will consider a new home up to 2 hours from his current location.
Mozzy's adoption donation fee is £450 and will need to be paid in full prior to him going home which will also be subject to a home check.

🚨 PLEASE READ CAREFULLY BEFORE APPLYING 🚨

1. You MUST MEET ALL the dogs' criteria, have you read the adoption criteria in full? 
COMPLETE APPLICATION FORM
PAY YOUR £5 SUBSCRIPTION – SEE NOTE BELOW**


PAYMENT REFERENCE must on the application form to cross reference. Mention if you have paid by Paypal or Bank Transfer if you are unable to provide a Transaction Number so we can check.


PAYMENT METHOD Via Enthuse using the link below.
Geordie Bullies Springboard Rescue – donate

Note:
UNLESS WE SEE PROOF YOU HAVE PAID; WE WILL NOT PROCESS YOUR APPLICATION AND YOU WILL NOT BE CONTACTED.

£5 per year allows you to apply for as many dogs as you wish over a 12 month period from your first  application. Please mention if you have paid by Paypal or Bank Transfer on any previous applications so we can cross reference.

Here is the link to the Application Form.

https://www.cognitoforms.com/GeordieBulliesSpringboard1/adoptionapplication