Norah – Ready for Adoption! – North East
When Norah came into foster, she was very withdrawn and shut down. It took some time and gentle patience for her to start opening up. And wow when she did, we found what an unbelievable sweet and happy little girl she is, full of affection for her humans.
Norah absolutely loves people especially children, but unfortunately, she isn't a fan of other dogs in her space. Norah has a feisty side to her and likes her humans all to herself, both inside and out of her home. When Norah is excited, she gets happy feet and does a little dance.
She is always happy to greet you and will follow close by you side. Norah really enjoys a walk out and gets very excited when she sees her collar and lead.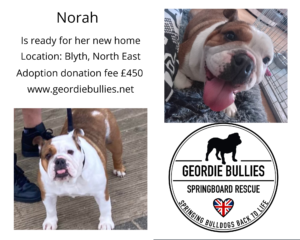 Dogs name: Norah (Nala)
Age: 3years old.
Can live with children: Yes, dog savvy children.
Can live with dogs: No.
Can live with cats: Untested.
Current location: Blyth, Northumberland.
Things to be aware of: Norah may be withdrawn for a short time, but plenty of patience and calm to help her feel safe and she will open up beautifully to show you her full personality. Norah is reactive towards other dog's who invade her space, so it is advised that she is walked with a yellow caution sleeve on her lead, to protect her and prevent other owners allowing their dogs to approach her. Norah can hump when over excited and anxious, but she responds quickly to Norah No/Down.
The ideal home:
Norah unfortunately must be an only dog, but what a dog she is. She would love an active family who will include her in every part of family life. She will happily potter around all day at your side or snoozing in her bed somewhere warm. And love long country walks with the family and back home to spend the evening cuddled up at your side enjoying ever bit of affection possible. Her family must understand how to help her through her reactivity and how to distract her.
Other comments:
Norah is incredible she came into foster a heart broken little girl, and it has been pure joy to see her grow in such a relatively short time. She is such a wonderful little girl you hardly know you have her, when your home. We cant stress enough how her reactivity shouldn't hold her back from finding her happy ever after. That there are things you can put in place to protect her.
Norah's adoption donation fee is £450 and will need to be paid in full prior to her going home which will also be subject to a home check.
**The successful applicant will need to have an active Facebook and Messenger account for the life of the dog. If you cannot agree to this, please don't apply**
🚨 PLEASE READ CAREFULLY BEFORE APPLYING 🚨
You MUST MEET ALL the dogs' criteria, have you read the adoption criteria in full?
COMPLETE APPLICATION FORM
PAY YOUR £5 SUBSCRIPTION – SEE NOTE BELOW*
PAYMENT REFERENCE must on the application form to cross reference. Mention if you have paid by Paypal or Bank Transfer if you are unable to provide a Transaction Number so we can check.
PAYMENT METHOD Via Enthuse using the link below.
https://geordiebullies.enthuse.com/donate
Note:
UNLESS WE SEE PROOF YOU HAVE PAID; WE WILL NOT PROCESS YOUR APPLICATION AND YOU WILL NOT BE CONTACTED.
£5 per year allows you to apply for as many dogs as you wish over a 12 month period from your first application. Please mention if you have paid by Paypal or Bank Transfer on any previous applications so we can cross reference.
Below is the link to the Application Form.
https://www.cognitoforms.com/GeordieBulliesSpringboard1/adoptionapplication
Norah
Please say hello and welcome to Norah
Norah is around 3 years old and is spayed.
We were contacted yesterday by greyhound rescue in the Northeast to ask us if we had room for a 3-year-old spayed bitch.
Norah had been living with a gentleman since she was a puppy but sadly the man died leaving Norah alone. First choice would have been that she could go to a family member but sadly no one wanted her.
We were then left with an ultimatum we either collected this girl or they were having her put to sleep, and we could never let that happen.
Thank you, Debbie, at the rescue took her in to keep her safe and then we collected her the next day. We really can thank Debbie enough.
Norah has gone from everything she knew to nothing and spending a night alone in kennels.
She will now spend her time being loved and cared for till we find her a forever family.
After collecting Norah, we have found a few things medically that need addressing,
The beginnings of interdigital cyst on both front paws
Missing Fur patches all over
She has pink skin and a sore on her face and ears.
Yet again another rescue coming with absolutely no belongings, and very little information. Big thank you goes to Debbie for keeping her safe and Emma for collecting her and fostering her in the Northeast.
She is a little unsettled, but this is to be expected, while she gets used to her new surroundings and new foster family.
When she is ready for her forever home her adoption Poster will be shared, so please keep your eyes peeled for more Norah updates.
Welcome to your GBSR Family! We cannot wait to share the next chapter of your life with you!
Follow Norah https://www.facebook.com/geordiebullies/
{"slide_to_show":"3","slide_to_scroll":"1","autoplay":"true","autoplay_speed":"3000","speed":"800","arrows":"true","dots":"false","loop":"true","centermode":"false"}