Ralph is a very playful boy who loves to throw himself around when he plays with his toys or tug of war. He is also very loving and will try and get into a position where he can touch you when he sleeps.
He has a lot of energy and can be strong out walking but he manages 2 miles twice a day and this suits him. He loves his walks, but we were advised by his previous owners he chooses which dogs he wants to interact with. Whilst in foster he has displayed a lot of excitement when he is near a dog but hasn't been close enough to interact.
Ralph thinks all balls and footballs are his and he will steal them from children, so he isn't allowed near when they are playing football.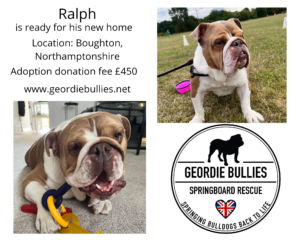 Dogs name: Ralph
Age:  3 Years 1 month
Can live with children: Yes
Can live with dogs: No
Can live with cats:  No
Current location:  Boughton, Northamptonshire
Things to be aware of: 
Ralph has previously had BOAS surgery and his cherry eye gland repocketed, there are no ongoing problems with either procedure.
Ralph can be a little unpredictable with other dogs so we would advise that any introductions are taken slowly. He is usually ok but there is the chance he might react.
The ideal home: 
Ralph really loves being around people so the ideal home for him is where is will not be left for long periods and he will get plenty of interaction and playtime.
He can live with children but as mentioned, he is boisterous when he plays, there is no aggression, but he could knock a child over so young children need to be supervised.
 Other comments: 
Ralph will make a lovely family dog, he is playful, loving and really enjoys the company of adults as well as children.
He loves being in the car and travels well so can easily be taken out on family trips.
 Ralphs adoption donation fee is £450 and will need to be paid in full prior to him going home which will also be subject to a home check.
🚨 PLEASE READ CAREFULLY BEFORE APPLYING 🚨

1. You MUST MEET ALL the dogs' criteria, have you read the adoption criteria in full? 
2. COMPLETE APPLICATION FORM
3. PAY YOUR £5 SUBSCRIPTION – SEE NOTE BELOW**
4. PAYMENT REFERENCE must on the application form to cross reference. Mention if you have paid by Paypal or Bank Transfer if you are unable to provide a Transaction Number so we can check.
5. PAYMENT METHOD Via Enthuse using the link below.
Geordie Bullies Springboard Rescue – donate

Note:
UNLESS WE SEE PROOF YOU HAVE PAID; WE WILL NOT PROCESS YOUR APPLICATION AND YOU WILL NOT BE CONTACTED.

£5 per year allows you to apply for as many dogs as you wish over a 12 month period from your first  application. Please mention if you have paid by Paypal or Bank Transfer on any previous applications so we can cross reference.

Below is the link to the Application Form.

https://www.cognitoforms.com/GeordieBulliesSpringboard1/adoptionapplication