Ronnie – is ready for adoption – Midlands
What can we say about Ronnie, he is a bundle of pure Bullie pup goodness. Ronnie is still young and learning his boundaries, he has all the typical Bullie traits stubborn, deaf ear, mouthy, etc., and has no problem using his puppy charms to try and get his way. He is wonderfully affectionate, and energetic loves a good zoomie.
Ronnie is learning to enjoy going for regular walks as part of a pack with the resident dogs in his foster home, he has shown no interest in other dogs outside the home.
Ronnie does get toy possessive and will growl at the other dog trying to play. His foster family have been working hard to teach Ronnie some basic commands but in true bulldog fashion he chooses when to listen.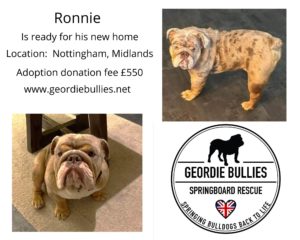 Dogs name: Ronnie
Age: 8 months
Can live with children: Yes, dog savvy.
Can live with dogs: Yes, but not any entire dogs.
Can live with cats: Untested.
Current location: Nottingham, Midlands.
Things to be aware of:
Ronnie has undescended testicles and will be going home on a neuter contract to be done when he is 18 months at a vet of our choosing, cost covered by the charity.
He is a young boy and doesn't react to well with entire males and is toy possessive. In typical Bullie fashion can be greedy and have absolutely no idea about personal space. He is eager to please and will sulk when told off. Due to his age any young children will need to be supervised around him, so he doesn't knock them over and understand that he needs his own space and to be left alone while resting.
The ideal home: 
Ronnie will benefit greatly from an active family home, that includes him in day-to-day family activities.
Regular walks to build up his stamina as currently tires after 15 min.
Ronnie needs a family who can be firm in setting boundaries and bring him on to be a perfect gentleman. Ideally having someone home with him but can be left for up to 4hours while crated.
Other comments: 
Ronnie is an amazing young pup that has the potential to grow into a wonderful Bulldog. The right family will do that for him. He has been a wonderful addition to the GBSR family, and we look forward to seeing his future adventures and growth.
Ronnie's adoption donation fee is £550 and will need to be paid in full prior to him going home which will also be subject to a home check.
**The successful applicant will need to have an active Facebook and Messenger account for the life of the dog. If you cannot agree to this, please don't apply**
🚨 PLEASE READ CAREFULLY BEFORE APPLYING 🚨
You MUST MEET ALL the dogs' criteria, have you read the adoption criteria in full?
COMPLETE APPLICATION FORM
PAY YOUR £5 SUBSCRIPTION – SEE NOTE BELOW*
PAYMENT REFERENCE must on the application form to cross reference. Mention if you have paid by Paypal or Bank Transfer if you are unable to provide a Transaction Number so we can check.
PAYMENT METHOD Via Enthuse using the link below.
https://geordiebullies.enthuse.com/donate
Note:
UNLESS WE SEE PROOF YOU HAVE PAID; WE WILL NOT PROCESS YOUR APPLICATION AND YOU WILL NOT BE CONTACTED.

£5 per year allows you to apply for as many dogs as you wish over a 12 month period from your first  application. Please mention if you have paid by Paypal or Bank Transfer on any previous applications so we can cross reference.

Below is the link to the Application Form.

https://www.cognitoforms.com/GeordieBulliesSpringboard1/adoptionapplication