Snow is described by her foster family as an absolute delight! She is lovable, well behaved and thrives on human contact. She loves nothing more than a good old 'cwtch' (cuddle).
Snow loves to go for walks and does one of the best excited dances we have ever seen!!! She wears a harness and lead when walking and doesn't pull at all.
Snow seems unbothered by other dogs when out and about walking but has previous chased squirrels! Because of her small furry tendency Snow hasn't been off lead so we are unsure of her recall. This would be something that would need assessing in her forever home and given further training for.
Snow is quite happy to sit and give her paw, she is a clever girl and quick to learn.
Snow enjoys a good bath but isn't such a fan of you cleaning her folds, she will allow you to do it though as she's such a good girl.
Snow isn't really bother by toys but can be encouraged to do so. The more she comes out of her shell, the more her lovely character shows. She does love a bit of rough play with her humans and will bark playfully but stop as soon as she's told.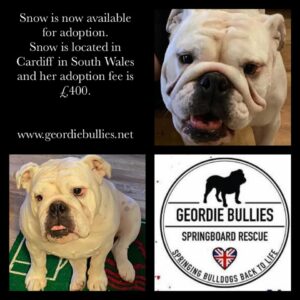 Dogs name: Snow
Age: 4
Spayed/ Neutered: Yes
Can live with children: Yes
Age of children : Any age
Can live with dogs: No
Can live with cats: No
Current location:  Cardiff, South Wales
How far can the dog travel from current location: 4 hours
Things to be aware of:  
Snow came into the charity because she had been fighting with another dog in the home so she will need to be an only dog in the home. She also has a tendency to chase small furries so we feel the home must be cat and small furry free too!
Snow is raw fed and was when she came into the charity. She will need to remain on this diet and advice can be given from the charity to her new forever family.
The ideal home: 
Snow is such an adorable girl and in the right forever home she will continue to grow and flourish. Like all bulldogs she will need ongoing training and firm boundaries and rules to ensure she her behaviour remains good.
Snow would be most suited to someone who is around a lot of the day as she really does thrive on her humans. We can assure you that once this little lady builds that trust she will be your friend for life!
As previously mentioned Snow will need to be an only dog in the home due to her previous history.
Snow is excellent with all children and we would be happy for her to be rehomed with children of any age.
Other comments:
Snow has been a pleasure in foster and has proven to be a complete sweetheart with her humans. Snow has no need to be crated and sleeps in her bed quite happily overnight.
Snow is toilet trained and travels well, we will consider a new home for her up to 4 hours from her current location in Cardiff, South Wales.
If you have any questions, please ask Kath Lane  foster mum to Snow.
Snow's  adoption fee is £400 and will need to be paid in full prior to going home which will also be subject to a home check.
?? PLEASE READ CAREFULLY BEFORE APPLYING ??
Have you read the adoption criteria in full?  You must meet ALL dog's criteria. 
COMPLETE APPLICATION form and pay your £5 subscription 
PAYMENT REFERENCE must on the application form to cross reference. 
PAYMENT METHOD : pay via PayPal www.paypal.me/gbspringboard or
Bank transfer Sort : 09.01.28 Acc : 92014344. 
?? UNLESS WE SEE PROOF YOU HAVE PAID; WE CANNOT PROCESS YOUR APPLICATION ??. 
£5 per year allows you to apply for as many dogs as you wish should you not be suitable on your first Application.
To apply, please complete the application form below
https://www.cognitoforms.com/GeordieBulliesSpringboard1/adoptionapplication