Stanley came into foster like a tornado and now he is like a smaller whirlwind. He was hyperactive and even though he had had 3 weeks intensive training before he came in, he still needed to have boundaries set… this is ongoing.
He loves physical playtime and will keep going until he is put in his crate for time out, someone forgot to install an 'off button' on this gorgeous but lively boy
He is also very loving. He gives the best cuddles and adores being touched all over.
Stanley walks well and really enjoys meeting other dogs. He is typically stubborn, inquisitive and has been gentle around the children he has met whilst in foster, outside the home.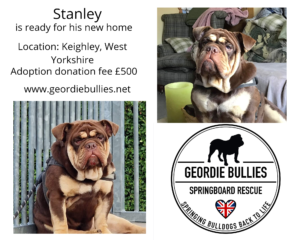 Dogs name: Stanley
Age:  11 Months
Can live with children: Yes aged 10 years and above
Can live with dogs: No
Can live with cats:  Untested in the home but not bothered when he has encountered them outside
Current location:  Keighley, West Yorkshire
Things to be aware of: 
Stanley will need to be neutered at around 18months. We will organise this with the new owners and pay for the neuter at a vet of our choice.
The ideal home: 
Stanley needs a home where he has access to a garden and with someone who will take him out for long walks as he needs to use up energy (which he has bags of).
Because Stanley throws himself around and has no idea of his own weight and strength, any resident
children in the home need to be aged 10 years and over and any younger visiting children need to be supervised.
Stanley has a crate for 'time out' which works well, and he will chew anything he can get his mouth on if he is left for long periods so he will be rehomed with his crate.
Other comments:
Stanley's foster parents have worked hard with him, instilling some boundaries and manners. Stanley really needs this otherwise he will wreak havoc and be back to square one. He is a very active boy so he needs a calm but active home where he will be taken out and about and not left at home.
To Stanley, life is one big game and if you can throw some water into the mix like stream, that takes him to his happy place.
Stanley needs a home where he will not be left for long periods, he needs interaction and will chew if he gets bored.
He is still very young, and with the right routine and boundary setting he will carry on developing into a fabulous little boy.
Stanley's adoption donation fee is £500 and will need to be paid in full prior to him going home which will also be subject to a home check.

🚨 PLEASE READ CAREFULLY BEFORE APPLYING 🚨

1. You MUST MEET ALL the dogs' criteria, have you read the adoption criteria in full? 
COMPLETE APPLICATION FORM
PAY YOUR £5 SUBSCRIPTION – SEE NOTE BELOW**
PAYMENT REFERENCE must on the application form to cross reference. Mention if you have paid by Paypal or Bank Transfer if you are unable to provide a Transaction Number so we can check.
PAYMENT METHOD Via Enthuse using the link below.
Geordie Bullies Springboard Rescue – donate

Note:
UNLESS WE SEE PROOF YOU HAVE PAID; WE WILL NOT PROCESS YOUR APPLICATION AND YOU WILL NOT BE CONTACTED.

£5 per year allows you to apply for as many dogs as you wish over a 12 month period from your first  application. Please mention if you have paid by Paypal or Bank Transfer on any previous applications so we can cross reference.

Here is the link to the Application Form.

https://www.cognitoforms.com/GeordieBulliesSpringboard1/adoptionapplication