Star & Storm – Applications closed !- Midlands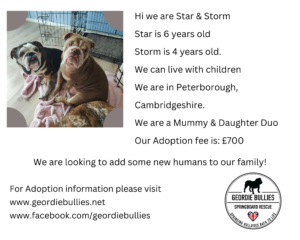 Dogs name:
Star & Storm
Age's:
Star 6years old.
Storm 4years old
Current location:
Peterborough, Cambridgeshire.
We CAN LIVE WITH:
Children:
Yes, dog savvy.
Cats:
No.
Dogs:
Yes, calm laid-back dogs.
A BIT ABOUT US
Personality:
Star & Storm our beautiful mother daughter duo.
These girls have such an incredible bond.
Star – Is Mum, she is very independent and loves nothing more than watching the world go by from a nice comfy spot in the sun.
Star is affectionate and loving towards her humans and will seek you out when she wants attention.
She is a lover not a fighter but does enjoy the occasional game of bulldog bitey face.
Storm – Is a much more energetic girl, she is very playful especially when it comes to her favourite toys, balls..!
Storm, just like her mum is very affectionate, she will be the first to get up and greet you when you come home.
Behaviour:
Star is a typical stubborn, lazy and funny bulldog, she is rebellious and intelligent and knows exactly what she is and isn't supposed to be doing.
Star is dominant and will hump Storm. But hasn't a single aggressive bone in her body whatsoever, she just wants her boundary respected.
Storm is a wonderfully affectionate little girl who will happily spend her day following her humans and getting cuddles every chance she can.
Storm loves her toys and will snatch toys from her mum. There is no aggression between the girls as they are used to sharing and swapping toys. Any resident dog must not have any resource guarding behaviours.
Any young children in the home must be supervised, as Star uses "mouthing" as her way of showing love and affection and it may be misunderstood to be biting and Storm is a big girl who loves a cuddle but doesn't understand how big she is.
Children must understand that bulldogs need time to settle in and have space to rest peacefully and uninterrupted.
Needs:
A calm family home is best suited to this pair, they love human interaction so a family that will keep them included in daily life and who are bulldog savvy.
They prefer a much slower and relaxed life; and are very much a living in the moment pair.
A nice garden is a must for these girls; for Star to relax in the sun watching the world go by, and for Storm to play and roll around in.
The girls didn't have the best manners when they came into GBSR and their foster family have worked hard teaching the girls some basic commands, her new family will need to continue with their etiquette training and help the girls become the most amazing Ladies.
The girls have a very easy going relationship and have enjoyed having an equally easy going fur foster brother.
Walk/exercise:
The girls prefer 1 walk of about 15-20 mins a day.
Star walks very well on the lead. She will get excited when she sees it because she loves going for a walk. She likes to take in her surroundings and take her time to sniff and explore her surroundings.
Storm is excitable and will pull on the lead but will calm once at the park.
The girls walk well together and are always happy to say hello to any dogs they meet. However, they leave their listening ears at home so is best kept on a lead.
Toilet trained:
The girls may need extra encouragement to go out when the weather is bad and may have an accident.
The girls do well with a regular routine and encouragement.
Can be left:
The girls are independent and can be left for up to 4 hours either crated or in a secure room with plenty water and toys to keep them occupied. If left any longer may have accidents and wet beds.
Travel:
Star and Storm enjoy a car ride travel very well; because of this, we will consider applications up to four hours away of their current location.
Things to be aware of:
Both girls have dry eye, they need daily Protopic and Ocrygel to relieve any discomfort.
Both girls will need to continue their current food Purina Hypoallergenic.
The girl's need daily bulldog husbandry to keep their skin and folds in perfect condition.
Star & Storm have both had previous TPLO surgeries, unfortunately Storm's had caused an infection in the bone, and we had to have the plates and screws removed. This has drastically improved her mobility; she is currently on antibiotics to ensure the infection is gone and will be completed by time she is ready to go home.
Additional information:
These girls are an incredible pair, they fit together perfectly and will be the most amazing addition to any family lucky enough to adopt them. If you're looking for that missing piece of the puzzle, look no further because these are the girls for you!
Star & Storm's adoption donation fee is £700 and will need to be paid in full prior to them going home which will also be subject to a home check.
**Every dog rehomed by GBSR receives Rescue Back-up for their whole Life. And the admin team are available for advice and support for the whole of that dog's lifetime via Messenger, therefore the successful applicant will need to have an active Facebook and Messenger account for the life of the dog. If you cannot agree to this, please don't apply**
🚨 PLEASE READ CAREFULLY BEFORE APPLYING 🚨
You MUST MEET ALL the dogs' criteria, have you read the adoption criteria in full?
COMPLETE APPLICATION FORM
PAY YOUR £5 SUBSCRIPTION – SEE NOTE BELOW*
PAYMENT REFERENCE must on the application form to cross reference. Mention if you have paid by Paypal or Bank Transfer if you are unable to provide a Transaction Number so we can check.
PAYMENT METHOD Via Enthuse using the link below.
https://geordiebullies.enthuse.com/donate
Note:
UNLESS WE SEE PROOF, YOU HAVE PAID; WE WILL NOT PROCESS YOUR APPLICATION AND YOU WILL NOT BE CONTACTED.
£5 per year allows you to apply for as many dogs as you wish over a 12-month period from your first application. Please mention if you have paid by PayPal or Bank Transfer on any previous applications so we can cross reference.
Below is the link to the Application Form.
https://www.cognitoforms.com/GeordieBulliesSpringboard1/adoptionapplication
A little of the girl's story below,
Please say hello and welcome to Storm and Star 
This beautiful pair are a Mummy and daughter duo.
Star is 5 years old and is spayed.
Storm is 4 and unspayed.
Their owner contacted us through our Facebook page to see if we could take them into foster.
They are being re-homed as their owner is having to move house after her landlord said he was selling the property.
Having to move quite quickly she couldn't find a home that would accept the dogs.
Storm has a yeast infection and has allergies which have been ongoing and currently having treatment.
Her skin is very dry in places and her fur has become patchy so we will do some investigations to see if we can help her with that.
Storm also has some optimune to help with dry eye and she has had one of her cherry eyes removed.
Star is well, her nose is a little crusty but overall she appears in good condition.
A massive thank you to Georgia for collecting the girls and keeping them in foster.
They are currently situated in the midlands.
When they are ready for their forever home their adoption Poster will be shared, so please keep your eyes peeled for more Star & Storm updates on our rescue group.
Welcome to your GBSR Family girls!
We cannot wait to share the next chapter of your life with you!!
Follow Star & Storm https://www.facebook.com/geordiebullies/
{"slide_to_show":"3","slide_to_scroll":"1","autoplay":"true","autoplay_speed":"3000","speed":"800","arrows":"true","dots":"false","loop":"true","centermode":"false"}