Talulah is a sassy, cheeky girl who thrives on routine and love. She adores having tummy rubs and cuddles and she is very playful. She is strong and will rag her toys and will decide you have invited her to play tug of war if you try and take a toy from her.
Talulah is typically stubborn when it comes to commands, and she isn't keen on dogs approaching her outside, so she is walked on her own. She loves going on her walks, but she isn't a long-distance walker, 15 mins twice a day is enough for her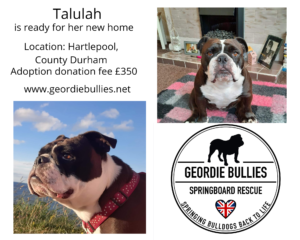 Dogs name: Tallulah
Age:  5 Years 10 months
Can live with children: 8 years and over
Can live with dogs: No
Can live with cats:  No
Current location:  Hartelpool, County Durham
Things to be aware of: 
Talulah gets anxious when you leave her to go out and will jump at the door and her foster mum to stop her. This will need to be managed and over time, once there is a routine in place with her new family, we would expect this to get better although in our experience this isn't always the case.
The ideal home: 
Talulah would be best placed in a home without other animals and older children. She is a very loyal dog that has been left for long periods in a previous life, so this is why she displays some anxiety at being left now. Ideally, she will find a home where there is someone around for most of the day who can set a routine for her and take her for a couple of short walks a day. She will only toilet on grass, so she needs a home with a garden.
Other comments: 
Talauh makes her foster mum smile every day. She is mischievous and cheeky and loves having lots of attention. As mentioned, she does display some anxiety at being left so this needs to be managed in her new home. It's managed in her foster home so this shouldn't put anyone off applying for her.
Talulah travels well so we will consider a new home for her up to 4 hours from her current location.
Tallulah's adoption donation fee is £350 and will need to be paid in full prior to her going home which will also be subject to a home check.
🚨 PLEASE READ CAREFULLY BEFORE APPLYING 🚨

1. You MUST MEET ALL the dogs' criteria, have you read the adoption criteria in full? 
COMPLETE APPLICATION FORM
PAY YOUR £5 SUBSCRIPTION – SEE NOTE BELOW**


PAYMENT REFERENCE must on the application form to cross reference. Mention if you have paid by Paypal or Bank Transfer if you are unable to provide a Transaction Number so we can check.


PAYMENT METHOD Via Enthuse using the link below.
Geordie Bullies Springboard Rescue – donate

Note:
UNLESS WE SEE PROOF YOU HAVE PAID; WE WILL NOT PROCESS YOUR APPLICATION AND YOU WILL NOT BE CONTACTED.

£5 per year allows you to apply for as many dogs as you wish over a 12 month period from your first  application. Please mention if you have paid by Paypal or Bank Transfer on any previous applications so we can cross reference.

Here is the link to the Application Form.

https://www.cognitoforms.com/GeordieBulliesSpringboard1/adoptionapplication