Tommy – Ready for Adoption! – South West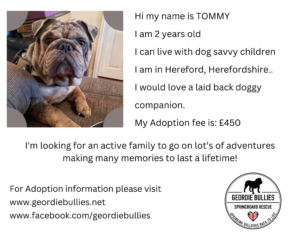 Dogs name:
Tommy
Age:
1year 11months
Current location:
Hereford, Herefordshire.
I CAN LIVE WITH
Children:
Yes, dog savvy.
Cats:
Untested (not shown any interested when outside the home).
Dogs:
Yes, Laid-back dogs.
A BIT ABOUT ME
Personality:
Tommy is a wonderful bundle of joy who is excited to bulldoze his way into your heart!
Tommy is playful, cheeky, and full of love for his humans.
His affectionate nature and intelligence all goes to his eagerness to please.
Tommy is a charmer and after he's had you playing all morning, he will then convince you to snuggle all afternoon giving him his favourite tummy tickles!
Behaviour:
Tommy likes a bit of rough play and is mouthy but the moment you tell him to stop he will.
Tommy loves a game of tug of war and will seek you out to play.
He is responsive to basic commands and to his name.
Needs:
Tommy needs an active family who can keep him involved in daily life and take him on all their adventures.
A garden is a must for Tommy as he is a playful boy.
Tommy would benefit from a laid-back but equally playful doggy companion.
Walk/exercise:
Tommy loves his walks, he really enjoys exploring his environment, even those patches that just need that extra long sniff to take it all in.
Tommy responds well to being approached by unknown dogs and people and is keen to play.
Tommy is walked twice a day morning and early evening; he tends to pull a little in the evening the dark makes him a little nervous, but it is getting better as his confidence grows.
Toilet trained:
Tommy is a good boy but needs a toileting routine as he doesn't indicate when he wants out. This can be worked on, and he will soon learn.
Can be left:
Tommy can be left for up to 4 hours, he will settle himself down in bed and keep himself occupied with toys.
Any longer and he may have an accident.
Travel:
Tommy is a very good traveller and will curl up and go to sleep. Because of this we will accept applications of up to 4 hours away from his current location.
Things to be aware of:
Tommy is excitable and can be mouthy and jump in play, he holds no malice whatsoever and will stop when told to.
Sometimes Tommy is excited to play but doesn't realise his size, any young children in the home must be supervised, as Tommy has the potential to jump and knock children over.
Children must understand that bulldogs need time to settle in and have space to rest peacefully and uninterrupted.
Additional information:
Tommy is an amazing young boy full of so much charisma and charm, you can't help but fall in love with his mischievous little face. Tommy will be the most amazing addition to any family looking for fun and adventure with this active boy!
Tommy's adoption donation fee is £500 and will need to be paid in full prior to him going home which will also be subject to a home check.
**Every dog rehomed by GBSR receives Rescue Back-up for their whole Life. And the admin team are available for advice and support for the whole of that dog's lifetime via Messenger, therefore the successful applicant will need to have an active Facebook and Messenger account for the life of the dog. If you cannot agree to this, please don't apply**
🚨 PLEASE READ CAREFULLY BEFORE APPLYING 🚨
You MUST MEET ALL the dogs' criteria, have you read the adoption criteria in full?
COMPLETE APPLICATION FORM
PAY YOUR £5 SUBSCRIPTION – SEE NOTE BELOW*
PAYMENT REFERENCE must on the application form to cross reference. Mention if you have paid by Paypal or Bank Transfer if you are unable to provide a Transaction Number so we can check.
PAYMENT METHOD Via Enthuse using the link below.
https://geordiebullies.enthuse.com/donate
Note:
UNLESS WE SEE PROOF, YOU HAVE PAID; WE WILL NOT PROCESS YOUR APPLICATION AND YOU WILL NOT BE CONTACTED.
£5 per year allows you to apply for as many dogs as you wish over a 12-month period from your first application. Please mention if you have paid by PayPal or Bank Transfer on any previous applications so we can cross reference.
Below is the link to the Application Form.
https://www.cognitoforms.com/GeordieBulliesSpringboard1/adoptionapplication
A little of Tommy's story below,
Please welcome the very excitable Tommy to our GBSR family!!
Another sad tale of failed relationship and his owner desperate to keep him safe and loved.
We were contacted by a family member last week asking for help to get Tommy to a safe environment before his owner could or would leave the toxic situation for herself.
Sadly, when a relationship breaks down it rarely ends well!
Tommy is a 21 month old entire male.
Huge thank you to Jenny for collecting Tommy and opening your heart and home to him.
Tommy is in foster in the Southwest and is already proving to be a loving and excitable little boy. He had a very settled first night but has woke today determined to make Jenny work for his attention.
Poor Jenny has struggled to get him to sit still for her to take photos, he would rather bounce around exploring his new castle, or stop drop and roll over for tummy tickles.
Tommy will be having a vet check in due course, but he appears to be in good condition.
So welcome to your GBSR UK journey beautiful boy, we can't wait to share it with you.
Follow Tommy https://www.facebook.com/geordiebullies
For more updates on all our dogs please join our community group
https://www.facebook.com/groups/1793138384086708/
{"slide_to_show":"3","slide_to_scroll":"1","autoplay":"true","autoplay_speed":"3000","speed":"800","arrows":"true","dots":"false","loop":"true","centermode":"false"}