Zeus is a lovely young dog who adores all human contact. He is very playful and bouncy and loves mixing with other playful dogs on his walks. He has very good recall and understands basic commands.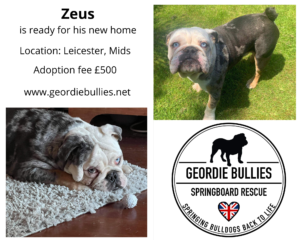 Dogs name: Zeus
Age: 11 months
Can live with children: Any age
Can live with dogs: No
Can live with cats: No
Current location:  Leicester, Midlands
Things to be aware of:
Zeus has had BOAS surgery whilst in foster and recovered well. He must still be hand fed with balls of food which we can advise you on. Zeus will also be on Omeprazole for life. This is a prescribed drug which can be purchased online with a prescription from the Vet. This will be an ongoing cost of between £10-£15 a month depending on where the drugs are purchased.
Zeus has been restricted on long periods of activity because of his BOAS so his fitness will need to be built up gradually.
He has not been neutered so we will recall him when he has matured at around 18 months old and pay for the neuter at a vet of our choice.
The ideal home:
Zeus is an energetic boy that loves going out for walks and does well off his lead so he can charge about so an active home would be perfect for him. He has been fine with children whilst in foster but as he is bouncy, young children would need to be supervised around him.
Other comments:
Zeus has been described as a very well natured dog by his foster mum and she has enjoyed having him. He will make a lovey addition to any family. Zeus travels well in the car and we will consider a new home up to 4 hours from his current location.
Zeus' adoption fee is £500 and will need to be paid in full prior to him going home which will also be subject to a home check.
?? PLEASE READ CAREFULLY BEFORE APPLYING ??

1. If your application doesn't meet the dogs rehoming criteria above you won't be considered to adopt this dog so please read the details carefully.
COMPLETE APPLICATION form and pay your £5 subscription
3. PAYMENT REFERENCE put this on the application form so we can cross reference.
4. PAYMENT METHOD : pay via PayPal www.paypal.me/gbspringboard or
Bank transfer Sort : 09.01.28 Acc : 92014344.

?? UNLESS WE SEE PROOF YOU HAVE PAID; WE CANNOT PROCESS YOUR APPLICATION ??.

£5 per year allows you to apply for as many dogs as you wish should you not be suitable on your first Application.

To apply, please use this link to the application form.

https://www.cognitoforms.com/GeordieBulliesSpringboard1/adoptionapplication